A Brighter and Quieter Mini-ITX Power Supply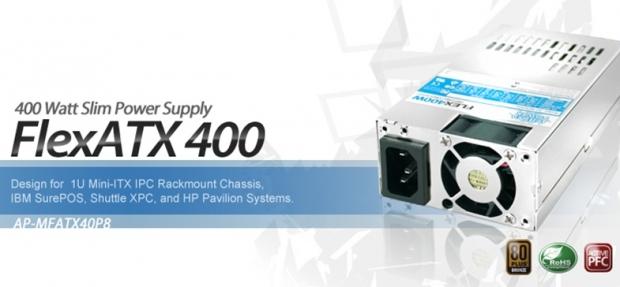 [City of Industry, Calif.-Nov. 22, 2011-] Athena Computer Power Corp., manufacturers and distributors of mainframe computer power supplies, is pleased to release a new addition to its FLEX family power supplies, the FLEX 400 Watt. Continuing with their trend of 80PLUS PSUs, the FlexATX comes with a new nickel cover that brandishes it as one of the high end and high powered PSU for its form factor. Built with the intention of being compact and flexible while maintaining high efficiency, the FLEX 400 Watt is in a class of its own.
The FlexATX 400 Watt has surpassed its predecessors with its new features. With its new fan cooling feature that promotes a cooler and quiet PSU. With a thermal sensor unit inside Athena Power has tweaked their FlexATX PSU so the internal 40mm fan will have a small 1-2 second time delay which also helps reduce fan noise levels.
80PLUS certification requires a power supply to operate at a minimum of 80% efficiency. The Bronze level of 80PLUS certification indicates that the power supply operates at a minimum of 82% efficiency at 20% and 100% load, and 85% efficiency at 50% load. According to test results, the FlexATX 400 has passed all requirements and has exceeded the 80PLUS requirements.
Athena Computer Power continues with their strong push into the Small Business, mini-ITX market by releasing their new MFATX40 or FLEX 400 Watt power supply. Staying true to their policy of "True Green Power" the FlexATX 400 Watt is a certified 80PLUS Power supply, awarded with the bronze badge it is the 3rd FlexATX PSU from Athena Power to have been awarded this certification. Along with its bronze badge certification this compact power supply is equipped with Active PFC and the Full Range features that helps enable the power supply to detect and control the power consumption for servers.
About Athena Computer Power Corp.
Athena Computer Power Corporation (ACPC) is a rapid growing company with over 20 years of knowledge in the computer power supply industry. ACPC is able to exude quality services globally by providing excellent sales, technical, and support services to our customers and clients. Athena Computer Power Cop consistently undergoes product research and development to find better improvements in our products. ACPC believes in the approach of quality, yet low cost products. To do this, ACPC's team of engineers exerts challenging efforts to constantly improve our products in the most effective and efficient methods possible. By doing so, we are able to save our planet by performing green computing in our products while saving our customers money.
Last updated: Apr 7, 2020 at 12:05 pm CDT