Equipped with Stylish Form Factor, the Samsung Illusion is Made from Post - Consumer Material and Has Attained UL Platinum Rating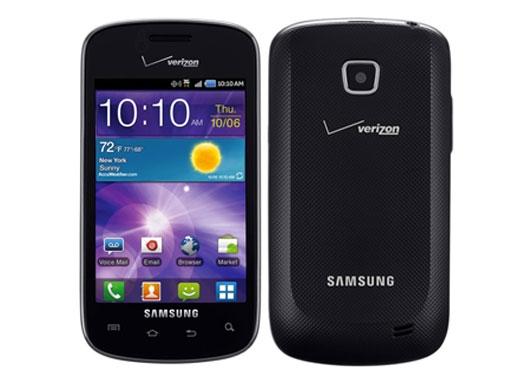 BASKING RIDGE, N.J. - Verizon Wireless and Samsung Telecommunications America (Samsung Mobile) today announced the Samsung Illusion™ will be available online at www.verizonwireless.com beginning Nov. 23 for $79.99 with a new two-year customer agreement.The Illusion will be available for free with a new two-year customer agreement between Thursday, Nov. 24 and Monday, Nov. 28 as a online promotion.
The sophisticated Samsung Illusion smartphone features a sleek form factor and is powered by the nation's most reliable 3G wireless network. The Illusion boasts a 1GHz Samsung Hummingbird Application Processor, 3.0-megapixel camera, HTML Web browser, music player and integrated contacts, calendar and social networking applications, as well as access to more than 300,000 apps available to download from Android Market™.
Key features:
• Android 2.3™, Gingerbread- support for Google Mobile™ Services including Gmail™, YouTube™, Google Talk™, Google Search™ and Google Maps™
• SWYPE™ Technology - input text faster and in a more intuitive way with one continuous finger motion across the screen keyboard
• Corporate email support for Microsoft Office Exchange® so customers can synchronize corporate email, contacts and calendars from their office email
• Full suite of messaging options, including text, picture and video messaging
• Mobile Hotspot capability - share 3G connection with up to five Wi-Fi-enabled devices
• 6-axis accelerometer with compass
• Bluetooth® 3.0 technology - support for headset, hands-free, stereo, phonebook access and object push for vCard and vCalendar
• Wi-Fi Connectivity 802.11 a/b/g/n
• microSD™ card slot with support for up to 32 GB (2 GB pre-installed)
Additional features - Designed with the environment in mind:
• UL Platinum Rating (Underwriters Laboratories) - the Samsung Illusion scored 84 out of 119 points to receive the "Platinum" UL rating
• Rear casing and battery cover are made from 70 percent post-consumer material and 35 percent of the front casing is post-consumer material
• Packaging made from bleach-free paper (post-consumer waste) and printed with vegetable ink
• Box material uses 60 percent recycled paper (post-consumer waste)
• High-efficiency charger with full-charge alarm
Availablity:
• The Samsung Illusion will be available online at www.verizonwireless.comon Nov. 23, and will be available in Verizon Communications Stores in January 2012.
• Customers that purchase a Samsung Illusion smartphone will need to subscribe to a Verizon Wireless Nationwide Talk plan beginning at $39.99 for monthly access and a smartphone data package starting at $30 monthly access for 2 GB of data.
For more information on the Samsung Illusion or for other Verizon Wireless products and services, visit a Verizon Wireless Communications Store, call 1-800-2 JOIN IN or go to www.verizonwireless.com
About Verizon Wireless
Verizon Wireless operates the nation's largest 4G LTE network and largest, most reliable 3G network. The company serves 107.7 million total wireless connections, including 90.7 million retail customers. Headquartered in Basking Ridge, N.J., with nearly 83,000 employees nationwide, Verizon Wireless is a joint venture of Verizon Communications (NYSE, NASDAQ: VZ) and Vodafone (LSE, NASDAQ: VOD). For more information, visit www.verizonwireless.com. To preview and request broadcast-quality video footage and high-resolution stills of Verizon Wireless operations, log on to the Verizon Wireless Multimedia Library at www.verizonwireless.com/multimedia
Last updated: Apr 7, 2020 at 12:05 pm CDT