Wrap 920 -- world's least expensive way to watch 3D video

Rochester, NY - November 22, 2011 - Vuzix Corporation (TSX-V: VZX, OTC:BB: VUZI, FMB: V7X), award-winning manufacturer of video eyewear, is excited to announce its award winning Wrap 920 Video Eyewear supports thousands of side-by-side 3D videos already available on YouTube, making it the world's least expensive way to watch 3D video on a home computer, tablet or iOS device. Vuzix also is lowering the price of the Wrap 920 by $50 for Cyber Monday in time for the holiday season.
When plugged in with a VGA adapter, the Wrap 920 takes over in full 3D mode and displays videos that rival a two thousand dollar TV in a package under $250. There is no need for red/blue glasses, extra equipment or a specific graphics card to watch 3D content. Mobile users can simply plug into an iPhone or iPad and view the same videos on YouTube in full 3D while traveling.
Paul J. Travers, Chief Executive Officer, commented, "The expansive library of videos in both 2D and 3D on YouTube, combined with the portable large screen theater of the Wrap 920, makes for a viewing experience like no other. 3D is in the mainstream and our Wrap 920 now takes advantage of beautiful 3D in an affordable and convenient package for all users"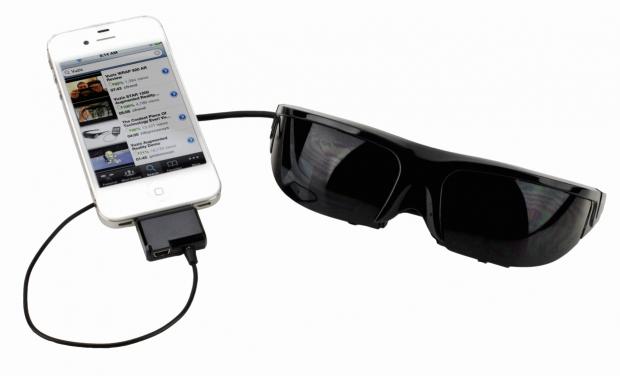 The sunglass-style eyewear features a virtual 67-inch screen as seen from 10 feet and displays both crystal clear 2D and 3D video. Two AA batteries provide up to 4 hours of video playback making it the perfect travel companion on a long flight. The Wrap 920 is wearable over most prescription glasses, includes separate focus adjustments and the adjustable, hypoallergenic nosepiece ensures a personalized, comfortable fit.
The Vuzix Wrap 920 will be available on Cyber Monday, 11/21/11 at Vuzix.com for $249.99.
Follow Vuzix on Twitter @Vuzix and facebook.com/Vuzix for the latest news on the company's entire line of award winning video eyewear.
About Vuzix Corporation:
Vuzix is a leading supplier of Video Eyewear products in the defense, consumer and media & entertainment markets. The Company's products, personal display devices that offer users a portable high quality viewing experience; provide solutions for mobility, thermal sighting systems, tactical wearable displays and virtual and augmented reality. With its origins in defense research and development for next generation display solutions, Vuzix holds over 51 patents in the Video Eyewear field. The company has won 9 Consumer Electronics Show Innovations Awards, the RetailVision Best New Product and several wireless technology innovation awards, among others. Founded in 1997, Vuzix is a public company (TSX-V:VZX - News, OTC:BB: VUZI, FMB: V7X) with offices in Rochester, NY, Oxford, UK and Tokyo, Japan. For more information visit www.Vuzix.com
Last updated: Apr 7, 2020 at 12:05 pm CDT