DisplayLink, the leading provider of technology for virtual and USB-connected computing, and I-O DATA DEVICE (www.iodata.com) today announced the availability of the I-O DATA USB-RGB3/D USB 3.0 to DVI display adapter. Incorporating the DisplayLink DL-3100 chip for connectivity and virtual graphics, it is the first USB 3.0 enabled display adapter to ship in Japan.
"And this is as true in Japan as any other technology-embracing market."
Featuring the robust DisplayLink 3.0 video compression and support for resolutions up to 2048 x 1152, including 1080p, even the newest notebooks, netbooks and PCs can enjoy the benefits of multi-screen computing. And with the throughput of SuperSpeed USB 3.0, those monitors will display high-performance, full-screen HD video, 3D games, rich 2D graphics and multi-channel audio.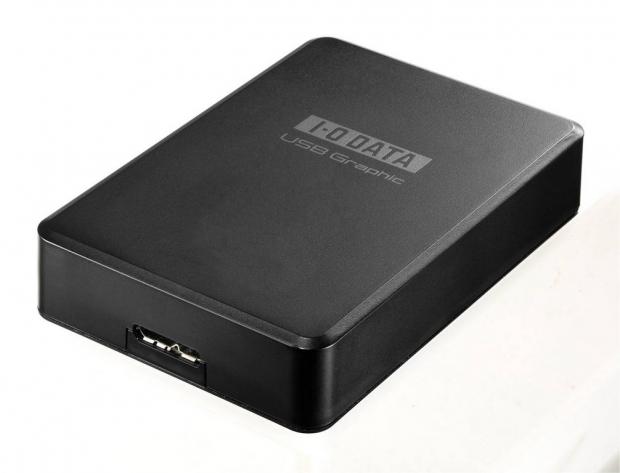 "Mixing and matching devices with different peripherals will continue to become even more popular with USB 3.0's speed and versatility," said Dennis Crespo, DisplayLink executive vice president of marketing and business development. "And this is as true in Japan as any other technology-embracing market."
"The DisplayLink DL-3000 family of chips allows I-O DATA to be first-to-market with high-quality products that our end consumers want now," said Hiroshi Kawada, Board Director of Business Strategy Dept. of I-O DATA. "The USB-RGB3/D adapter fills an immediate need for users of the newest PCs, allowing them to take advantage of displays of different resolutions without sacrificing performance."
USB 3.0 has transmission speeds of up to 5 Gbit/s, which is 10 times faster than USB 2.0. USB 3.0 significantly reduces the time required for data transmission, reduces power consumption, and is backwards compatible with USB 2.0.
Pricing and Availability
The I-O Data USB-RGB3/D adapter is currently available in Japan, selling for $137.00.
About I-O DATA DEVICE
I-O DATA DEVICE, INC., is a top-tier manufacturer and provider of high-quality computer peripherals and interface products to the global consumer and OEM markets. Founded in 1976, by Mr. Akio Hosono, I-O DATA has received recognition as Japan's undisputed market leader within the PC Peripheral industry. I-O DATA is not only a manufacturer of such devices, but handles the design, development, production of the products.
About DisplayLink
DisplayLink Corp. is a hardware and software company that offers a unique technology to enable easy virtual graphics connectivity between computers and displays over standard interfaces such as USB, wireless USB and Ethernet. DisplayLink technology is used in dozens of globally branded PC accessories including monitors, universal docking stations, display adapters, projectors, and zero client systems that make expansion of the desktop visual workspace possible, at significantly lower cost and energy usage than traditional solutions.
DisplayLink is ranked the fourth fastest-growing EMEA Company by Deloitte, and was awarded the CES 2011 Best of Innovation Award Honoree in the Enabling Technologies category for its forthcoming Interactive Networked Graphics for SuperSpeed USB. For more information and product details, visit DisplayLink Shop and follow DisplayLink on Facebook and Twitter.
Trademarks
The I-O DATA logo is registered trademarks of I-O DATA DEVICE, INC. DisplayLink and the DisplayLink logo are trademarks or registered trademarks of DisplayLink Corporation in the US or other countries. All rights reserved.
Last updated: Apr 7, 2020 at 12:05 pm CDT