First Onboard Navigation App for iPhone with an Option for Quarterly Map Updates
Sydney, Australia, 18 November, 2011- NAVIGON GmbH, a subsidiary of Garmin Ltd, the global leader in satellite navigation, today launched the second generation of its award-winning iPhone navigation app, NAVIGON 2.0 for iPhone. The new version includes an in app purchase option for quarterly map updates and a very simple and intuitive user interface. Existing NAVIGON for iPhone users receive the update to the new version at no cost.
"Navigation systems have become more complex over the last years. We've added many new features to our app since it first launched, ranging from traffic and parking information to advanced lane guidance, and our challenge with this new version was to not just add new functionalities but take the overall user experience to the next level," said Gerhard Mayr, NAVIGON vice-president of worldwide mobile phones and new markets. "We completely rethought the way the app interface is structured and as a result, NAVIGON 2.0 is more intuitive and easier to use than ever before."
Map Update Capabilities
NAVIGON 2.0 is also the first iPhone navigation app to offer quarterly map updates. The FreshMaps service uses trusted, field-verified, and quality-controlled map and points of interest updates from NAVTEQ® to ensure the most accurate data possible. Users can keep their maps accurate and reliable by receiving quarterly updates for a one-time fee. NAVIGON's new Latest Map Guarantee provides customers the latest NAVTEQ map available when purchasing NAVIGON 2.0 for iPhone.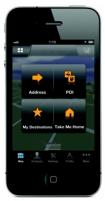 New User Interface
The new user interface is much easier to use, allowing to easily switch between different pages with animated menus and new multi-touch user gestures. It is now possible to access the start screen during navigation to enter a new address without having to first stop the current route. In addition, NAVIGON separated the app options into two menus, differentiating between settings and actions. The new Settings menu allows users to easily customize functions and change preferences, for example when to receive speed warnings, while the new Actions menu lets users execute functions that are needed while navigating such as points of interest search and social network postings.
NAVIGON 2.0 for iPhone also has a fresh new look that displays the map in the background even when accessing menu pages. Furthermore, it is very easy to rotate and zoom maps in any direction when in 3D mode and tap points of interest on the map to instantly add them to a route.
Pricing and Availability
The NAVIGON 2.0 upgrade is available at no cost for all existing customers. NAVIGON's Australian app and the FreshMaps in app purchase are available at a reduced price until November 30, 2011. The promotional offerings are below next to the regular prices.
Applications
NAVIGON for iPhone Australia: AUD $49.99 instead of AUD $64.99
In App Purchases
NAVIGON FreshMaps: AUD $14.99 instead of AUD $29.99
Traffic Live: AUD $24.99
Panorama View 3D: AUD $11.99
NAVIGON for iPhone is compatible with iPhone 4S, 4, 3GS, 3G iPad 3G and iPad 2 3G. The app also runs on first generation iPhone and iPod Touch, but third party accessories for GPS reception are required for these devices.
For more information, please visit: www.navigon.com.
Find NAVIGON on:
Twitter: www.twitter.com/NAVIGON_
Facebook: www.navigon.com/facebook
Flickr: www.navigon.com/flickr
YouTube: www.navigon.com/youtube
About NAVIGON GmbH - a GARMIN company:
Germany-based NAVIGON GmbH was founded in 1991 and is a leading supplier of satellite navigation products. In July 2011, the company was acquired by Garmin Ltd. and operates as a fully-owned subsidiary. The NAVIGON brand offers mobile navigation devices (PNDs), smartphone navigation applications, and solutions for the automotive OEM industry.
Last updated: Apr 7, 2020 at 12:05 pm CDT