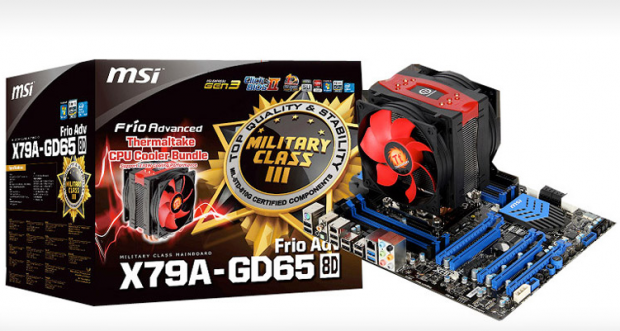 Taipei, Taiwan -November 15, 2011-Thermaltake, being the industry pioneer brand in thermal solutions, carrying the corporate vision of "building Thermaltake Technology into a cultural brand for the enjoyment of entertainment, e-Sports, technology, and lifestyle" and continues to drive toward the corporate mission of "delivering the perfect user experience" on all segment of the market. Today, is thrilled to announce the global partnership with MSI, the leading international mainboard and graphics card maker, on the joint of a limited sale promotion hosted by MSI. The limited sale promotion offers fanatics Thermaltake Frio Advanced CPU cooler and MSI X79A-GD65 (8D) mainboard as a package. Both items will prepare fanatics for LGA 2011 socket which support the latest Intel's 2nd generation Core i7 processors.
We are very happy to form this new global sales partnership with MSI to provide consumers with the best platform performance. Both brands will benefit from this development," said Louis Huang, Thermaltake Executive Vice President of Business Operation. "Thermaltake is a leading provider of computer cooling solutions and we began offering the Frio CPU cooler series 2010. The Frio is designed to effectively reduce the temperature of CPUs, even when overclocked. Thermaltake has now leveraged our past success to release the all new Frio Advanced CPU cooler for overclockers in the fourth quarter this year.
Thermaltake Frio Advanced CPU Cooler
The new Frio Advanced features five 6mm direct-contact heat pipes which are accurately mechanical assembled with the heat-sinks providing an absolute thermal dissipation environment of 230W.Plus, the convenient screw-free fan design with shock-absorbing rubber screws will accept the eye-catching dual 13cm red-bladed overclocking fans with PWM smart fan control effortlessly, along with the ability to reduce noise and vibration while it operates. Moreover, the integrated universal mounting kit supports the up to the latest Intel LGA 2011 processors.
"MSI is delighted to partner with well-known cooling solutions maker Thermaltake to bundle MSI's X79A-GD65 (8D) mainboard with Thermaltake's top-of-the-line Frio Advanced CPU cooler. The combination of the two products will provide the consumers with powerful performance," said Scott Yang, Vice President of Mainboard Sales at MSI. "MSI mainboards and graphics card have won unanimous approval for their high stability and high performance since military class components were introduced in recent years. The Intel 6-series mainboards we released this year were also very well received. Our new products are intended to capitalize on our previous success and provide consumers with an even better performing platform."
MSI X79A-GD65 (8D) Mainboard
The all-new MSI X79A-GD65 (8D) mainboard adopts Military Class III components which are MIL-STD-810G certificated, plus the latest PCI Express Gen 3 bus, OC Genie II and MSI's exclusive Click BIOS II to deliver the best possible performance with stability and user-friendly tweaking experience. X79A-GD65 (8D) also supports up to 8 sticks of 16GB DDR3 memory; total memory capacity up to 128GB rivals that of servers and workstations, making it the perfect choice for extreme performance enthusiasts.
Test results with Frio Advanced on MSI X79A-GD65 (8D) mainboard have proven to keep the CPU 10 degrees cooler than the reference cooler . Frio Advanced cooler would provide a boost for those looking to challenge the limits and trigger off another performance race!
For more retailer and product information, please visit the following website: http://event.msi.com/mb/x79/thermaltake
**Remark:[1] Thermal performance may vary on different platforms and environments.
About Thermaltake
Thermaltake Technology was established in January, 1999 and has been market to the world with "Thermaltake" brand name ever since. The brand personality of Unique, Aggressive, Vivid, and Stylish makes Thermaltake an expert in creating Exciting things and Fascinating environment for gamers and enthusiasts, also Keep them Constantly High physically and mentally.
Last updated: Apr 7, 2020 at 12:05 pm CDT