WD Sentinel(TM) DX4000 Small Office Storage Server Combines Centralized Storage, Backup-and-Restore Protection for 25 Network Devices and Allows SMBs to Connect, Protect, and Collaborate IRVINE, Calif., Nov. 15, 2011 /PRNewswire via COMTEX/ --
Western Digital® (NYSE: WDC), the world's leader in digital storage solutions, is introducing WD Sentinel(TM) DX4000 (photo), a complete network storage solution designed specifically to meet the demands of today's small-to-medium sized businesses (SMBs). WD Sentinel DX4000 includes the Windows® Storage Server 2008 R2 Essentials operating system software and the Intel® D525 Dual Core Atom CPU. The WD Sentinel DX4000 is centralized shared storage and automatic server-based backup and restore for up to 25 devices (PC and Mac®) in the network. It offers complete data protection with built-in hardware and software redundancy for all of the connected devices in the network. With capacities including 4 TB and 8 TB, WD Sentinel DX4000 lets small business owners expand small office server storage capacity as their business and storage demands grow. In addition, the WD Sentinel DX4000 small office storage server acts as the "on-premise cloud storage" for the SMB.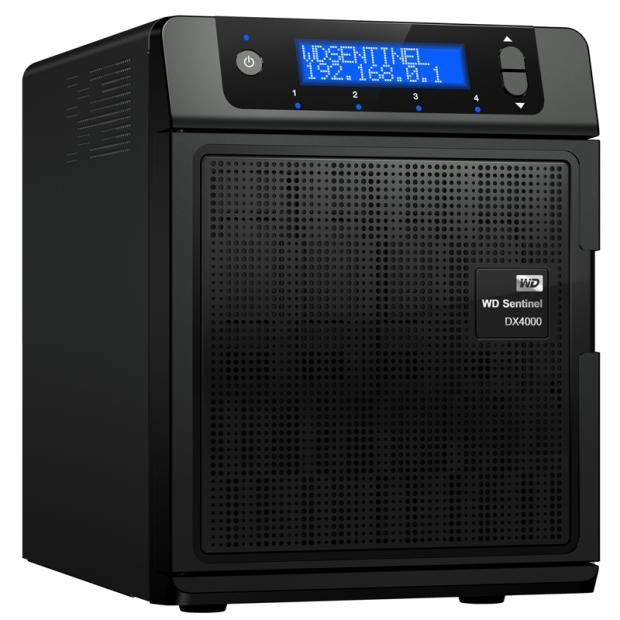 "The WD Sentinel small office storage server is the ideal storage, backup, and secure remote access solution for any SMB," said Thomas Gallivan, vice president of marketing for WD's SMB Solutions Group. "The ability to have centralized storage that is both on-premise and offers secure remote access provides a small business owner and employees the flexibility needed for today's mobile lifestyle. WD is providing small business owners with a hands-free solution that offers complete data protection and unparalleled peace-of-mind."
"The requirement for collaboration across multiple devices and locations necessitates the need for a centralized storage solution in today's SMB environment", said David Tuhy, General Manager, Intel Data Center and Connected Systems Group. "Intel is working closely with the industry and companies like Western Digital to provide the technology that is at the core of these storage solutions and provide SMBs a platform to manage, organize and secure their data to ensure business continuity."
"Built on Windows Storage Server, WD Sentinel gives small business customers the storage and file services capabilities of Windows Server, as well as a solution aimed specifically at the SMB segment," said Thomas Pfenning, general manager, Storage, at Microsoft. "We are pleased to see WD Sentinel serve our mutual customers."
Whether they're personal or professional, digital content and important files are invaluable and often irreplaceable if lost or compromised. WD Sentinel small office storage server provides several ways for businesses to protect their information without user intervention. WD Sentinel comes preconfigured with enterprise-class drives, RAID storage protection, built-in server based backup and recovery software, redundant networking ports and a redundant power option. In addition, WD Sentinel offers users the ability to connect to a "public cloud" storage provider, which offers small businesses an economical and integrated disaster recovery solution against earthquake, theft and fire or water damage.
Software included with WD Sentinel provides business owners and their employees the freedom and flexibility to remotely access files and share files with external employees, independent consultants and satellite offices anywhere in the world.
Five Levels of Data Protection
WD Sentinel DX4000 provides five levels of data protection for every device on the small office network and is supported by WD Guardian Services.
1.The Drives Inside: Pre-configured with WD's award-winning enterprise-class drives for durability and reliability.
2.RAID: Featuring levels 1 and 5 for data protection and speed.
3.Daily Backup: Automatic backup and recovery software provides daily full system back ups for up to 25 devices on your network. Simply set it and forget it.
4.Redundant Network Connectivity: Dual Gigabit Ethernet configured in Adaptive Fault Tolerance (AFT) automatically switches to second network port in the event of a network failure.
5.Optional Disaster Recovery Protection:Connect to the small business cloud provided by optional disaster recovery software and store your data offsite for disaster recovery.
WD Sentinel is certified to be compatible with a variety of Operating Systems (OS) including Windows XP, Windows Vista®, and Windows 7. In addition, WD Sentinel is compatible with Mac OS X® Leopard® and Snow Leopard® for file sharing among Windows, Mac and Unix/Linux operating systems and allows businesses to share files with clients, consultants, and inter-office personnel regardless of the OS used.
WD Guardian(TM) Services for Small Business
WD Sentinel DX4000 is backed by WD's world-class customer service and support. All WD Sentinel small business customers will receive free tech support for 30 days from the time of the first call. WD Sentinel customers may wish to upgrade their service plan to one of three options:
1.WD Guardian Express: Offers next-day parts replacement service including shipping and handling costs.
2.WD Guardian Pro: Offers a one year support agreement with WD service, express parts replacement and priority access to technical support.
3.Guardian Extended Care: Service that extends the product warranty from the standard three year warranty to five years.
In conjunction with the WD Sentinel DX4000 launch, WD is also introducing SelectWD SMB Partner Program, a channel program that supports IT professionals and VARs servicing the needs of small to medium businesses. The SelectWD SMB Partner Program enables partners to grow their businesses by providing all of the tools and resources required to locally market, sell and support the new WD Sentinel DX4000 and WD Guardian service plans. Partners can learn more by visiting http://www.selectwdsmb.com.
Price and Availability
WD Sentinel DX4000 small office storage server is available at select U.S. retailers and online at the wdstore.com. MSRP is $949.99 USD for 4 TB and $1,449.99 USD for the 8 TB.
About WD
WD®, one of the storage industry's pioneers and long-time leaders, provides products and services for people and organizations that collect, manage and use digital information. The company designs and produces reliable, high-performance hard drives and solid state drives that keep users' data accessible and secure from loss. Its advanced technologies are configured into applications for client and enterprise computing, embedded systems and consumer electronics, as well as its own consumer storage and home entertainment products.
Last updated: Apr 7, 2020 at 12:05 pm CDT