AMD (NYSE: AMD) today announced immediate launch and availability of its AMD Opteron 6200 and 4200 Series processors (formerly code-named "Interlagos" and "Valencia"). The new AMD Opteron processors are designed to give enterprises:
• Better performance for business with up to 84 percent higher performance[i]
• Increased scalability for Virtualization with up to 73 percent more memory bandwidth, enabling servers to host more virtual machines and also handle increasing workloads [ii]
• More efficient economics for the Cloud with half the power per core[iii], requiring 2/3 less floor space[iv] and up to 2/3 lower platform price[v]
"Our industry is at a new juncture; virtualization has provided a new level of reliable consolidation and businesses are now looking to the cloud for even more agility and efficiency. We designed the new AMD Opteron processor for this precise moment," said Paul Struhsaker, corporate vice president and general manager, Commercial Business, AMD. "The wait for the most anticipated new product and architecture for servers is over. Leading OEMs are now offering cloud, enterprise and HPC customers a full suite of solutions based on the industry's most comprehensive server processor portfolio, the new AMD Opteron family of processors which deliver an inspired balance of performance, scalability and efficiency."
AMD also announced the expansion of its 2012 roadmap with the addition of the new AMD Opteron 3000 Series platform. The AMD Opteron 3000 Series platform is targeted to the ultra-dense, ultra-low power 1P Web Hosting/Web Serving and Microserver markets. The first processor will be the 4-8 core CPU code-named "Zurich", expected to ship in the first half of 2012. "Zurich" is based on the "Bulldozer" architecture and leverages the new Socket AM3+. The AMD Opteron 3000 series offering is designed for hosting customers who require dedicated servers for their customers. These cloud and web hosting customers appreciate the cost savings associated with a lower cost infrastructure, yet still want to deploy a server-class product with reliability and security features and server OS certification.
IT customers of all sizes can today take advantage of new servers based on the engineering and business advantages of AMD's new "Bulldozer" architecture, which has been engineered for the leading datacenter workloads. Systems from Acer, Cray, Dell, HP, IBM and many additional channel and motherboard partners are expected on the market in the coming days and weeks.
AMD is also introducing embedded server processors designed for high-end embedded systems such as storage, telecommunications and networking infrastructure. These models are planned to be available to match the embedded market's longevity need.
Key Facts, Performance and Technical Detail
• 89 percent greater performance[vi] than the most popular server processor[vii] from the competition at the same price[viii]
• An extremely comprehensive processor portfolio scaling from 4- to 16-cores
• Unmatched power efficiency with power envelopes that are consistent with previous generation platforms and as low as 4.375W per coreiii
• Up to 24 percent to 84 percent better performance on key cloud, virtualization and HPC workloads[ix]
• Highest 2P server TPCC score[x]
• Lowest cost per virtual machine (VM)[xi]
• Up to 4 memory channels with up to 1600 MHz memory
• The only x86 processor to support ultra-low voltage 1.25v memory
• Supports up to 12 DIMMs per CPU for up to 384GB memory per CPU
• Up to Four x16 HyperTransport technology (HT3) Links at up to 6.4GT/s per link
Together, these new features allow AMD to deliver unparalleled performance, scalability and efficiency for highly threaded workloads like HPC, database, virtualization, and especially, the emerging web and cloud market.
Full performance details can be found at http://www.amd.com/opteronperformance or read about the latest here.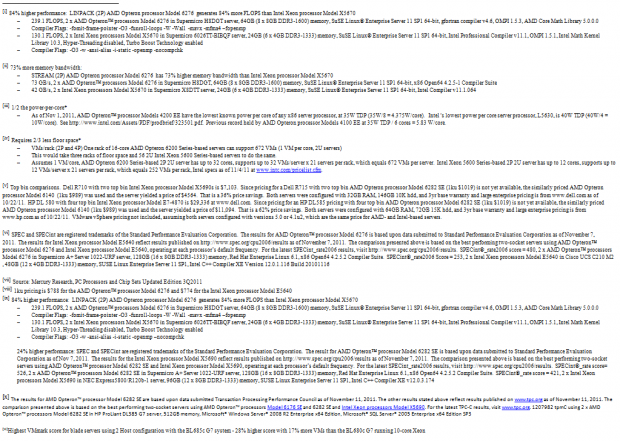 Last updated: Apr 7, 2020 at 12:05 pm CDT