The VIA EPIA-P900 packs in dual-processing capabilities into the industry's smallest commercialized motherboard form factor
Taipei, Taiwan, November 9th, 2011 - VIA Technologies, Inc, a leading innovator of power efficient x86 processor platforms, today announced the industry's first Pico-ITX board with dual core processing. Measuring just 10cm x 7.2cm, the VIA EPIA-P900 Pico-ITX is the industry's smallest commercialized form factor to feature multi-processing capabilities.
Featuring a 1.0GHz VIA Eden™ X2 CPU along with the VIA VX900H Media System Processor, the VIA EPIA-P900 offers advanced multitasking and multimedia capabilities, including improved HD video rendering. With its incredibly small footprint, the VIA EPIA-P900 provides the ideal platform for a wide array of next generation ultra compact devices for applications ranging from health-care, logistics, fleet management, and other vertical market segments to digital signage displays and kiosks.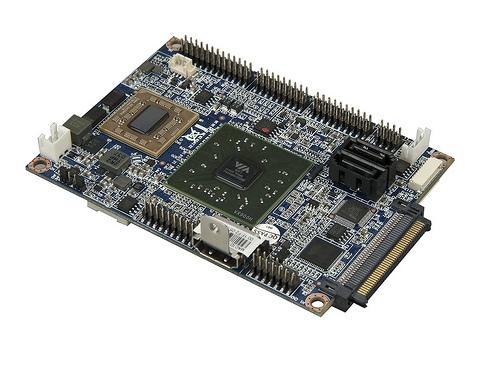 "The VIA Pico-ITX allows embedded system design to pack unprecedented levels of performance into even smaller form factors," said Epan Wu Head of the VIA Embedded Platform Division, VIA Technologies, Inc. "The new VIA EPIA-P900 opens up exciting new possibilities for innovation in ultra compact embedded designs."
VIA EPIA-P900 Pico-ITX Mainboard
Based on the ultra compact Pico-ITX form factor measuring only 10cm x 7.2cm, the VIA EPIA-P900 combines a 1.0GHz EdenTM X2 CPU and the latest VIA VX900H MSP for superior computing performance for ultra compact systems. The VIA EPIA-P900 supports up to 4GB of DDR3 memory, HD audio, HDMI, VGA and LVDS display connectivity as well as a high performance hardware HD video decoder in the shape of the latest VIA ChromotionHD 2.0 video engine.
The VIA ChromotionHD 2.0 engine provides advanced filtering and cutting edge post-processing to perform ultra smooth decoding of H.264, MPEG-2, VC-1, WMV9, and HDCP for Blu-ray content protection providing smooth playback of the most demanding multimedia titles at resolutions up to 1080p without incurring a heavy CPU load. The VIA EPIA-P900 features the VIA Vinyl VT2021, a 10 channel HD audio codec, delivering outstanding sound quality and support for Blu-ray and HD DVD Audio Content Protection.
On board pin headers provide support for an additional of 5 USB 2.0 ports, an LPC connector, SMBus connector, PS/2 support, audio jacks, LVDS, 4 pairs of DIO and two UART ports. Rear I/O includes one HDMI port, one VGA port, 2 USB 2.0 ports and 1 GigaLAN port.
For more details about the VIA EPIA-P900 please visit:
http://www.via.com.tw/en/products/embedded/ProductDetail.jsp?productLine=1&id=1670&tabs=1
For images related to this announcement please visit:
http://www.viagallery.com/index.php?option=com_flickr4j&Task=sets&Set=72157627916885301&Page=1
About VIA Technologies, Inc.
VIA Technologies, Inc is the foremost fabless supplier of power efficient x86 processor platforms that are driving system innovation in the PC, client, ultra mobile and embedded markets. Combining energy-saving processors with digital media chipsets and advanced connectivity, multimedia and networking silicon enables a broad spectrum of computing and communication platforms, including its widely acclaimed ultra compact mainboards. Headquartered in Taipei, Taiwan, VIA's global network links the high tech centers of the US, Europe and Asia, and its customer base includes the world's top OEMs and system integrators. www.via.com.tw
Last updated: Apr 7, 2020 at 12:05 pm CDT