High quality video for online communications, security, and fun
November 9, 2011, Taipei, Taiwan - Genius, a leading manufacturer of computer peripherals and consumer electronics, has launched a powerful new high definition webcam - FaceCam 3000 - in North America.
FaceCam 3000's powerful 3 million pixel sensor and accurate fixed focus lens provide sharp and colorful high definition video for applications including online communication, training, games, and recording video. It's perfect for adding video to Skype, MSN, Yahoo messenger and other popular instant messaging and Internet phone applications. The included headset and software makes this a complete package for free video calls over the Internet.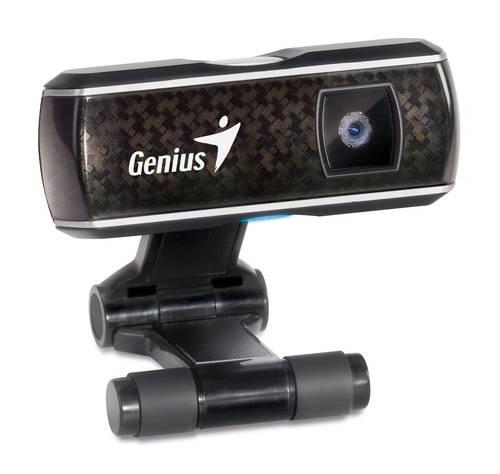 The 3 megapixel image sensor at the heart of the FaceCam 3000 supports 720P HD resolution (1280 x 720) video with a frame rate of up to 30 frames per second (FPS). FaceCam 3000 can record video at its full 3 megapixel resolution at 15 FPS.
Installation is quick and simple, as no driver is required for Windows 7, Mac, and most Linux systems. A cable is included to connect the camera to any free USB 2.0 port for fast data transfer. The versatile clip base fastens easily onto monitors, notebook PCs, and other surfaces, or supports the FaceCam 3000 in freestanding mode.
The package includes powerful applications CrazyTalk and Video Easy for real time video chat, desktop sharing and recording video to upload to YouTube or Facebook. FaceCam's software records video in WMV format and still images in JPG format.
A special feature of FaceCam 3000 is the Image Protection Mechanism (IPM), which stops hackers from getting unauthorized access to your webcam on Windows systems.
With its attractive pricing, great flexibility, and tough construction, Genius' FaceCam 3000 is certain to be popular with consumers, already available in the USA & Canada.
Product Highlights of Genius FaceCam 3000
• Superior 3.0 million pixel sensor
• Precise fixed focus lens makes images sharper
• HD video 1280 x 720 (720P) at up to 30 FPS
• Add video to Skype, MSN, Yahoo, AOL and similar apps
• True Plug & Play, no driver required
• USB 2.0 ensures stable, high-quality video
• Snapshot button for instant snapshots
• LED warns you when video is active
• Versatile clip base attaches easily to monitors, notebook PCs, etc.
• Includes a headset with microphone
• Security feature prevents unauthorized outside access to your camera
• MSRP: US$59.99
More product information and photos are available at:
http://www.geniusnet.com.tw/wSite/ct?xItem=45717&ctNode=161
Package contents
• FaceCam 3000 webcam
• Single ear headset
• USB cable
• Software CD with:
• CrazyTalk Cam Suite PRO
• Magix Video Easy
• Genius Button Manager
• Multi-language user manual
• Quick guide
About Genius
Genius is a leading international brand in computer peripherals. Established by KYE Systems Corp. in 1983, Genius offers PC products including computer mice, keyboards, web and security cameras, speakers, gaming peripherals, remote controls, headphones, digital cameras, digital camcorders and digital photo frames. The Genius consumer electronics range includes mobile phone accessories, Bluetooth headsets and iPod speakers. For six consecutive years, beginning in 2005, Genius was recognized as one of Taiwan's Top 20 Global Brands. For more information, you can visit the Genius website at www.geniusnet.com
Last updated: Jul 27, 2022 at 04:07 am CDT