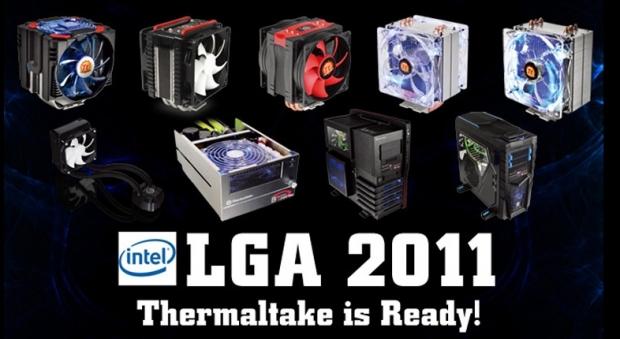 Taipei, Taiwan - November 1, 2011-Thermaltake, the leader and pioneer in PC thermal solutions, carrying the corporate vision of "building Thermaltake Technology into a cultural brand for the enjoyment of entertainment, e-Sports, technology, and lifestyle." This fall, will offer competent enthusiasts a free set of cooler mounting kits to hold up the Intel upcoming LGA-2011 socket, to facilitate our dedication to the corporate mission of "delivering the perfect user experience," as well as show our appreciation to the Thermaltake brand supporters.
Adequacy
The LGA-2011 upgrade mounting hardware will be provided free of charge to anyone who has purchased a qualified cooler prior to October 2011.
Intel® LGA-2011 compatible and Qualified Cooler:
* Thermaltake Bigwater 760 Plus
* Thermaltake Frio OCK
* Thermaltake Frio
Thermaltake will be incorporating the new LGA-2011 kit into all compatible coolers in both retail and e-tail stores once the Intel® Sandy Bridge-E processor launch is confirmed. Thermaltake wants to ensure future compatibility for our Thermaltake brand supporter and enthusiasts therefore the free offering is to ensure that anyone who supports Thermaltake brands with qualified cooler as solution will have the LGA 2011 mounting available once the purchase has been made or in the case that the cooler may have been in store before the changeover.
Comparison: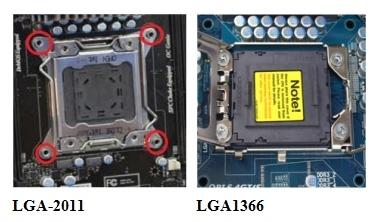 Among various physical attribute changes, the most notable difference is that there are no "pass-through" holes for the mounting mechanism. On the LGA-1155/1156 and LGA-1366 motherboard, the mounting retention would pass through the motherboard and be retained by either plastic push pins or a variation of backplate and mounting screw combination depending upon the cooler used. With the LGA-2011 socket, the main load mechanism to retain the CPU in the socket also has threaded tabs which are where the cooler will be mounted. This will require a change to present cooler mounting for compatibility and Thermaltake has a solution to ensure enthusiasts can upgrade to this socket with just a minor hardware change.
For more information on the getting your free mounting kits, please contact original purchased retail store/e-shop, or contact our technical support otherwise please follow our where to buy link to find your nearest store.
For more details on the LGA-2011 Support please follow the below links:
Thermaltake LGA-2011 Compatible Cooler Products Page:
http://globalevent.thermaltake.com/LGA2011/index.html
Thermaltake Technical Support:
http://my.thermaltake.com/index.aspx
Where to buy link:
http://www.thermaltake.com/wheretobuy.aspx
Thermaltake YouTube channel:
http://www.youtube.com/user/Thermaltakereview
Follow the official Thermaltake Facebook page:
http://www.facebook.com/ThermaltakeInc
Last updated: Apr 7, 2020 at 12:05 pm CDT