- AMD FirePro™ V4900 blows away competition1 while delivering AMD Eyefinity technology for entry-level professional graphics market -
SUNNYVALE, Calif. - Nov. 1, 2011 - AMD (NYSE: AMD) today launched the AMD FirePro™ V4900, which delivers unequalled performance for Digital Content Creation (DCC) and Computer Aided Design (CAD) professionals at an entry-level price point. By leveraging AMD's most advanced graphics technology, including AMD Eyefinity technology, the AMD FirePro V4900 significantly improves application performance and drives efficiency in the workplace. In fact, the AMD FirePro V4900 more than doubled the performance of competitive offerings in many CAD and DCC application tests.
"The AMD FirePro™ V4900 stands in a league of its own and redefines entry-level professional graphics card capabilities," says Sandeep Gupte, general manager of professional graphics, AMD. "The AMD FirePro V4900 leverages AMD's most advanced graphics technology, which not only enhances user experience and boosts performance of professional applications, but also features AMD Eyefinity multi-display technology that supports up to six displays4 increasing user productivity."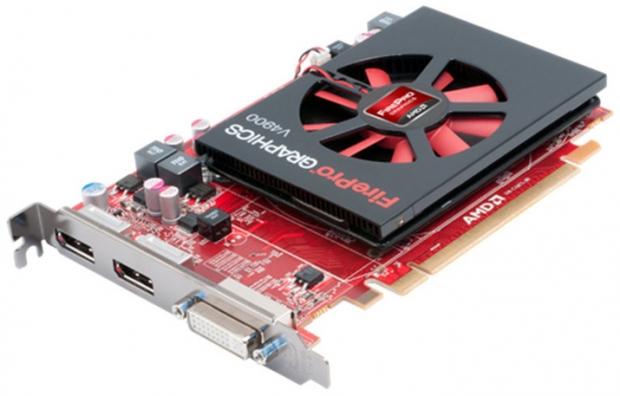 The AMD FirePro V4900 is designed to exceed the needs of graphics professionals. The GPU's 1GB of 128-bit GDDR5 RAM drives memory bandwidth of 64 GB/s5 allowing rapid data access, while Microsoft® DirectX®11, OpenGL® 4.2 and OpenCL™ support, empowers users to render and manipulate models using the broadest range of tools and applications. Enhanced AMD Eyefinity and DisplayPort 1.2 technology enables six-screen multi-display setups, which delivers higher resolutions and increased productivity when working with multiple applications, while reducing the complexity and cost of a typical multi-monitor set up. Through AMD's productive relationship with workstation solution providers, the AMD FirePro V4900 will be available in a range of industry-leading systems from HP and others.
"HP workstation customers operate at the highest levels in every industry - they demand solutions that deliver optimum performance and the latest technologies," says Jeff Wood, vice president, Worldwide Marketing, Commercial Solutions, HP. "By integrating the AMD FirePro V4900 into its workstations, HP is providing customers with a powerful graphics solution - at an affordable price."
AMD FirePro products are tested and certified with many leading software applications to ensure compatibility, stability, and optimal performance for certification. The AMD FirePro V4900 has received certification for a variety of applications including Abaqus®/CAE 6.11, ANSYS® 13.0, Autodesk 2012 3D design software solutions, Bentley System's Microstation V8i, BETA CAE Systems' ANSA and mETA, CEI's EnSight, and EnSight CFD. Additionally, the AMD FirePro V4900 received certification from COMSOL Multiphysics®, Esri ArcGIS 9.3.1, and 10, Missler Software TopSolid 2012 CAD/CAM solutions, MSC Software, Patran and SimXpert 2011, Robert McNeel and Associates' Rhinoceros®, SolidWorks Corp.'s SolidWorks® 2011 and 2012 3D CAD software, SpaceClaim, Vision Numeric 3DESIGN and several solutions from Siemens PLM Software.
"Siemens PLM Software works closely with AMD to ensure its product lifecycle management software meets the needs of its professional users," says Bill Boswell, Senior Director, Partner Strategy, Siemens PLM Software. "The AMD FirePro V4900 delivers outstanding performance with value, while AMD's industry leading product support makes certain our users receive the attention they need when they need it. Through our partnership with AMD, Siemens PLM helps our customers make smarter decisions and better products."
The AMD FirePro(TM) V4900 will be available in select Dell and Fujitsu systems and HP workstations. As of November 1, 2011 it will be sold for $189 USD MSRP at select online resellers.
Supporting Resources
• AMD FirePro™ V4900 Product page
• AMD FirePro™ V4900 Endorsements
• AMD FirePro Certifications page
• Twitter: Follow AMD professional graphics news on Twitter at @AMDFirePro
• Facebook: Become a fan of AMD technology on Facebook
About AMD
AMD (NYSE: AMD) is a semiconductor design innovator leading the next era of vivid digital experiences with its groundbreaking AMD Fusion Accelerated Processing Units (APUs) that power a wide range of computing devices. AMD's server computing products are focused on driving industry-leading cloud computing and virtualization environments. AMD's superior graphics technologies are found in a variety of solutions ranging from game consoles, PCs to supercomputers. For more information, visit http://www.amd.com.
Last updated: Apr 7, 2020 at 12:05 pm CDT