Taipei, Taiwan - October 18th 2011 - ADATA™ Technology, a leading manufacturer of high-performance DRAM modules and NAND Flash application products, has launched a full range of USB 3.0 products. This USB 3.0 product lineup from ADATA offers a comprehensive range of styles, all of which incorporate new heights of performance excellence, leading consumers to experience the new era of USB 3.0 whirlwind speed.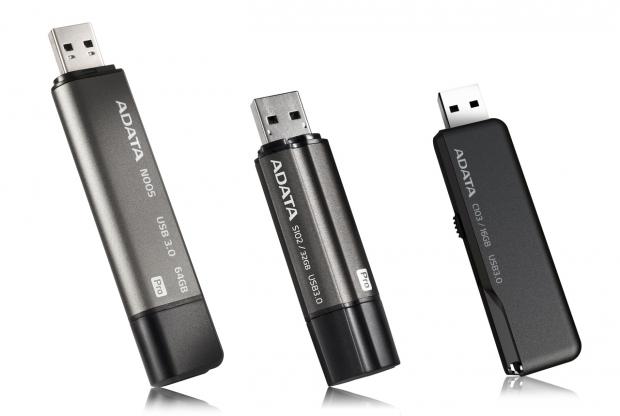 After ADATA announced the different functionality and high performance USB 3.0 hard drive solutions SH14 & SH12, the constant pursuit for high quality, high efficiency, and the differing needs of consumers has spurred the company to re-launch its USB 3.0 flash drive line. This first new launch includes three models of ADATA USB 3.0 Flash drive: the N005 Pro, the first choice for those looking for professional performance, and the performance and value entries S102 Pro and C103. The N005 Pro and S102 Pro are advanced versions offering professional performance and improved overall speed, more than twice that of previous models.
These three USB3.0 flash drives come in a range of capacities that provides great choice, with storage capacity reaching 64GB for professional grade models.The three new flash drives are compact, lightweight, and are a pleasant combination of aesthetics and functionality. ADATA is determined to provide a super-fast, high quality, super-capacity value experience.
As a market leading brand, ADATA anticipates the needs of consumers, and focuses on its commitment to R & D and innovation in order to provide consumers with the best product performance and service. Regarding the demand for USB 3.0 products, in order to meet the needs of different consumers from portable flash drives to portable hard drives, this introduction of different models features a complete section and full range of USB 3.0 solutions. ADATA continually introduces newer, advanced versions offering improved performance, and strives to provide comprehensive USB 3.0 solutions to the market.
Additionally, ADATA offers several free ultra-high-quality software options. Purchasers of ADATA flash drives are eligible to download the latest Norton Internet Security 2012 (60 day trial), UFDtoGO and many other value-added software products. These products are covered by a lifetime warranty, so users enjoy better mobility, security and convenience.

About ADATA
ADATA Technology, the world's 2nd largest vendor of DRAM Modules, 3rd largest of USB Flash Drives (iSuppli, April 2011), and a Top 20 global brand in Taiwan, provides complete memory solutions, including DRAM Modules, USB Flash Drives, memory cards, solid state drives and portable hard drives. ADATA products are internationally recognized by Germany's iF Design Award, red dot Award, CES Best of Innovations Award, Japan's Good Design Award, Best Choice of Computex Award, and Taiwan Excellence Gold Award. The company's slogan of Love, Life, Dreams, embodies the ADATA brand and the role of innovative memory products in the human pursuit of universally cherished ideas. For more information, please visit www.adata-group.com.
Last updated: Apr 7, 2020 at 12:05 pm CDT