Shanghai, China, Oct. 12, 2011 - Runcore, the global top10 leader in SSD, today release its rSSD¢â product line. rSSD¢â is the world's smallest single-chip Solid State Drive with standard SATA or PATA interface in BGA form factor that allows for easy integration of embedded storage into industrial and commercial devices and applications.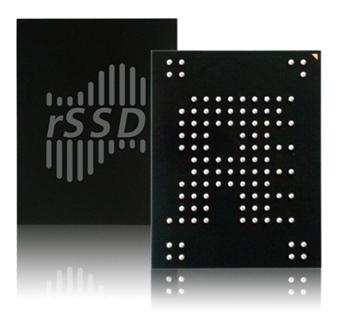 The rSSD¢â product family has the same pin-assignment across all capacities -4GB,8 GB, 16 GB, 32 GB,64GB and higher in the future--which simplifies system-level board design.
At the same time , rSSD¢â has the traditional HDD & SSD 'reliability and security combined with high performance and low power consumption. rSSD¢â can serve both commercial-grade (0¡É to 70¡É) and industrial-grade (-40¡É to 85¡É) temperature support. With the advanced technology , the rSSD¢â can support industry-grade ECC engine,Trim command , GC command ,S.M.R.A.T. command and SSD LifeGuard technologies which provide real-time SSD monitoring and warning capabilities. It make your rSSD¢â to provide the best data integrity, endurance and reliability in the market.
rSSD¢â is the amazing embedded storage solution for IPCs, Tablet PC, Set-top box , Automotive infotainment system ,GPS, thin client , imaging applications , portable devices , Black box data recorder ,point-of-sale terminals, Monitor Device, medical devices, test instruments, Military Application ,and other other embedded storage applications.
rSSD¢â use leading SSD System integration technology, using world class controller & flash. rSSD¢â family extends 's portfolio of high-performance, fully-integrated embedded solid-state drives.Using Creative Revolution Technology for MCP (Multi Chip Package) SSD, the rSSD¢â family can provide your amazing SSD feature. rSSD¢â offers a fully integrated SATA or PATA interface in a single BGA package measures 14mm X 18mm and scale in storage densities to up to 32GB using SLC memory and 64GB using MLC memory. With the rSSD¢â design kits, designer who use rSSD¢â product can made it more easier & quickly to different product form factor which customer system need ,just like half slim, msata, 2.5inch ,1.8inch,even directly mount the rSSD¢â on motherboard. Using the standard chip-size design, it allow fast time-to-market for industrial and customized application.
Last updated: Apr 7, 2020 at 12:05 pm CDT