Android & iOS users may battle the shape-shifting creature with flamethrowers in a virtual 360° environment and "infect" themselves using augmented reality app
SAN FRANCISCO OCTOBER 12, 2011- metaio has teamed with Universal Pictures to create a first-of-its-kind virtual and Augmented Reality mobile app to promote the thriller The Thing, in theaters October 14. The free app features a 360° flamethrower game in which players must use their weapons to survive attacks from invasive creatures that come at them from all sides. Players may also "Infect" themselves, which uses facial recognition elements to show what it looks like when invaded by The Thing! Users may then upload the photos and share the horrific results with their friends.
In the flamethrower game, players assume the role of one of the surviving Antarctic scientists, trapped in a dimly-lit virtual laboratory just like the one in the film. Players must move their mobile devices 360° to defend themselves from the attacking alien creatures lurking in the shadows. To "Infect" themselves (or a friend), players may simply use thefront camera to snap their photo, then watch as they turn into The Thing in real time. They will become The Thing!
The app may be downloaded for free in both the iTunes App Store and the Android Market, and it was created using metaio's advanced Mobile SDK (Software Development Kit). "We're very pleased to partner with Universal on building a game that is not only fun to play, but also places the player amidst a similar horrific and suspenseful environment as the film," said Lisa Murphy, project lead and metaio Sr. Business Development Manager. "Our Mobile SDK allows us to create rich, interactive mobile applications that truly immerse the user in the experience."
metaio's Mobile SDK is the most comprehensive solution to create Augmented Reality applications for iPhone and Android devices. Featuring a high-level API and the latest in image recognition technologies, it allows developers to produce high-quality applications with low effort.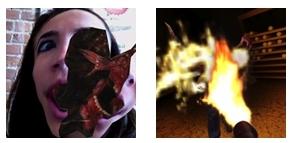 Learn more about The Thing Mobile App, the movie and metaio:
• Watch a video of the game
• Read more at the Augmented Blog
• Watch the trailer for The Thing
• Learn more about the Unifeye Mobile SDK
• Download the Thing: Flamethrower for iOS
• Download the Thing: Flamethrower for Android
About The Thing
Antarctica: an extraordinary continent of awesome beauty. It is also home to an isolated outpost where a discovery full of scientific possibility becomes a mission of survival when a creature is unearthed by a crew of international scientists. Accidentally unleashed at this marooned colony, it has the ability to turn itself into a perfect replica of any living being. It can look just like you or me, but inside, it remains inhuman. In the thriller The Thing, paranoia spreads among a group of researchers as they encounter something that has the ability to turn itself into an exact replica of any living being. Paleontologist Kate Lloyd (Mary Elizabeth Winstead) has traveled to the desolate region for the expedition of her lifetime. Joining a Norwegian scientific team that has stumbled across a creature buried in the ice, she discovers an organism that seems to have died in the ice eons ago. But it is about to wake up. When a simple experiment frees the thing from its frozen prison, Kate must join the crew's pilot, Carter (Joel Edgerton), to keep it from killing them off one at a time. And in this vast, intense land, a parasite that can mimic anything it touches will pit human against human as it tries to survive and flourish. The Thing serves as a prelude to John Carpenter's classic 1982 film of the same name. Directed by Matthijs van Heijningen, the thriller is produced by Strike Entertainment's Marc Abraham and Eric Newman (Dawn of the Dead). www.thethingmovie.net
About metaio
As the world-wide leader in Augmented Reality technology, metaio develops software products for visual interactive solutions between the real and the virtual world. Based on the software platform Unifeye, 3D-animations can be integrated seamlessly into live-video streams respectively into pictures of the user's real environment. Founded in February 2003, metaio currently employs 70+ people at two different locations. The company is headquartered in Munich with the subsidiary metaio Inc. located in San Francisco USA. metaio has been working with more than 450 renowned customers from different industries and geographical locations. Among them: BMW, Daimler, Siemens, Toyota, Peugeot, EADS, Bertelsmann, KUKA, LEGO, MINI, Popular Science, Focus Features and Volkswagen.
Last updated: Apr 7, 2020 at 12:05 pm CDT