FREMONT, CALIF., USA - Oct 11, 2011 - Patriot Memory, a global pioneer in high-performance memory, NAND flash, storage, and enthusiast computer products, today expanded their Pyro brand of SATA III solid-state drives with the launch of its new Pyro SE. Powered by SandForce's® SF-2281 SSD processor, the Patriot Memory Pyro SE brings the added performance of synchronous NAND to the brand while offering a very aggressive price per performance ratio.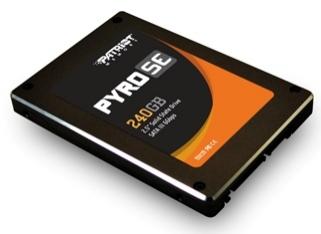 To ensure rock-solid performance, the Patriot Memory Pyro SE utilizes TRIM, DuraClass, and DuraWrite technologies. Offering read/write speeds of 500+ MB/s, the Pyro SE will chew through large file transfers and make even the most demanding applications a smooth experience. The Pyro SE series will feature a standard 2.5-inch form factor for flexible compatibility with both notebooks and desktops.
The Patriot Memory Pyro SE will offer increased performance while still maintaining our aggressive pricing strategy", says William Lai, Patriot Memory's Product Manager. "The Patriot Memory Pyro SE will be the ultimate choice for performance users looking to increase productivity while not bankrupting their budget."
General details
• 120GB, & 240GB capacities
• SandForce® SF-2281 SSD processor
• SATA 6.0 Gbps interface
• Up to 550MB/s sequential read speeds
• Up to 520MB/s sequential write speeds
• Maximum 4K random write: 85,000 IOPS
• TRIM Support
About Patriot
Memory Patriot Memory designs, manufactures and markets high performance, enthusiast memory modules, flash products, and computing technologies. Patriot products have become world renown for their extreme performance, reliability and innovation. Patriot Memory sells its products through original equipment manufacturers, retailers, e-tailers and distributors throughout the world with operations in North America, Asia and Europe. Patriot Memory LLC was founded in 1985 and is headquartered in Fremont, California, USA.
All company and/or product names may be trade names, trademarks and/or registered trademarks of the respective owners with which they are associated. Features, pricing, availability, and specifications are subject to change without notice.
Last updated: Apr 7, 2020 at 12:05 pm CDT