September 2011, Milpitas, CA - HighPoint Technologies, Inc., an industry leading HBA and storage solutions manufacturer, launches the latest of its revolutionary USB 3.0 HBA's, the RocketU 1144AR. Four dedicated 5Gb/s ports deliver an unprecedented 20Gb/s of throughput, and support single disk and RAID configurations including 0, 1, 5, 10 and JBOD.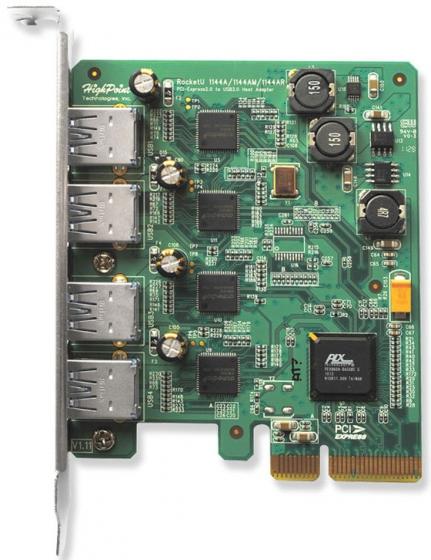 RocketU 1144AR - Save hundreds with HighPoint's Unbeatable USB 3.0 RAID Performance
Conventional USB 3.0 Card + RAID Enclosure packages restrict performance with a maximum transfer bandwidth of 5Gb/s. Such solutions effectively handicap today's fastest external devices, including the latest generation of SSD's, which now meet or exceed this 5Gb/s limitation.
HighPoint's revolutionary RocketU Quad-Port HBA's eliminate this performance bottleneck, and represent the industry's most cost effective, high-performance external USB 3.0 storage solutions for PC platforms. With a potent combination of PCI-E x4 bus speeds and dedicated 5Gb/s per-port transfer rates, the RocketU 1144AR delivers class leading performance while saving you hundreds of dollars over existing RAID solutions.
Flexible, High-Performance External Storage
The RU1144's integrated RAID technology allows users to configure arrays using combinations of USB external hard drives, SSD's, enclosures and docking bays. Mix and match SSD's and hard drives of any USB generation, into high-performance stripe configurations, or secure valuable data with mirrored arrays.
For the ultimate gaming and multi-media experience, configure RAID 0 arrays using multiple, external USB 3.0 drives for maximum performance. Configure mirror and 5 arrays to provide additional layers of security, and protect valuable data from the risks of hardware failure.
The RocketU 1144AR's intuitive web-based Management interface allows you to quickly and easily configure RAID 0, 1, 5, 10 and JBOD arrays using a variety of high-performance external USB 3.0 storage devices.
Cost-Effective USB 3.0 Upgrade with RAID for any PC
RocketU Quad-Port HBA's are the only USB 3.0 controllers on the market capable of delivering the throughput needed by today's fastest external hard drives and SSD's.
RocketU HBA's are fully backwards compatible with any PCI-E 1.0 x4/x8 and x16 slot, and will automatically recognize any external USB hard disk or SSD's that are pre-configured or already contain data. RocketU HBA's are fully compatible with USB 1.1, 2.0 and 3.0 hard drives, SSD's, multi-bay enclosures and docking bays.
Availability
The RocketU 1144AR HBA is available immediately, from a world-wide network of Distribution and Reseller channels.
Distribution Channels: ASI, D&H Distribution, Malabs, Avnet
E-Commerce Channels: Amazon.com, Newegg.com
About HighPoint
HighPoint designs and manufactures a full spectrum of SAS and SATA HBA's with Management Solutions for wide scale Storage Applications. We are long recognized as an innovator of RAID HBA technology and have continuously developed cutting edge RAID solutions to satisfy the industry's evolving storage requirements. HighPoint is the SAS and SATA Storage Industry price leader for all OEM/ODM, SMB and Enterprise HBA's. HighPoint has a successful track record of delivering products to fortune 500 companies and global storage providers. HighPoint has regional sales offices and world-wide distribution networks to better serve customers locally.
Last updated: Apr 7, 2020 at 12:05 pm CDT