SAN JOSE, CA (September 19, 2011) -- Addonics Technologies www.addonics.com today announced the Addonics 2.5" and 3.5" Snap-In Disk Array -- removable drive systems that are ideal solutions for increasing hard drive storage in both small and large computing systems.
The Addonics 2.5" Snap-In Disk Array is a high density removable hard drive system that supports installing up to four 2.5" SATA hard drives or SSDs into one standard 5.25" drive bay. This compact form factor makes it an ideal solution for increasing hard drive storage in small computers, mini ATX systems or for applications that require a large number of drives.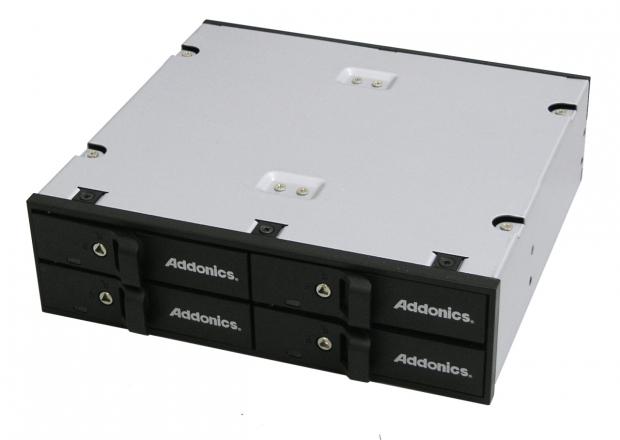 The 2.5" Snap-In Disk Array is designed to accommodate any 2.5" SATA hard drive or SSD with a drive height up to 12.7 mm. Each drive slot is equipped with its own power and drive access LEDs. A lock on the drive door secures each hard drive in the Disk Array unit.
The 3.5" model allows you to install as many as five 3.5" hard drives into three 5.25" drive bays on any desktop PC, Tower or 4U Rack mount system.
The 3.5" Snap-In Disk Array also increases the number of hard drives that can be installed into many systems or storage chassis, such as the Addonics family of Storage Towers. Together with Addonics Port Multiplier, you can create a powerful RAID storage solution with large storage capacity and drive redundancy in a compact 3-bay drive enclosure.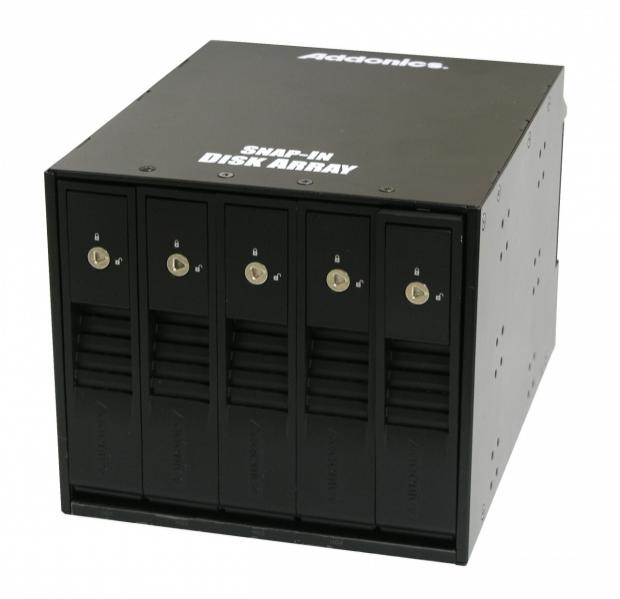 Installation of both Snap-in Disk Arrays is as easy as using a VHS cassette. Simply slide the hard drive into one of the drives slots and close the drive door. To remove, simply open the drive door and the hard drive will automatically eject.
Prices range from $69.95 for the 2.5" model to $99 for the 3.5" version.
For more information, visit:
- http://www.addonics.com/products/raid_system/AESN4DA25.asp
- http://www.addonics.com/products/raid_system/Snap-In-Disk-Array.asp
Addonics Technologies Inc. designs, manufactures, and markets a broad line of internal/external and mobile storage products. Addonics products are available through the company online store www.shopaddonics.com, major catalog companies, resellers, VARs and distributors, including Amazon.com, PC Connection, CDW, Buy.com, Provantage.com, Insight, and Ingram Micro.
Last updated: Apr 7, 2020 at 12:05 pm CDT