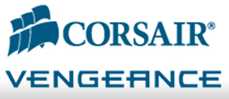 - The Corsair Vengeance Cup launches with a Call of Duty 4 Online Tournament and $10,000 Prize Purse -
FREMONT, California - September 16th, 2011 - Corsair®, a worldwide designer and supplier of high-performance components to the PC gaming hardware market, today announced the Vengeance™ Cup, an online Call of Duty® 4 tournament with a $10,000 total prize purse. Corsair has partnered with Esports Heaven, part of the Heaven Media Group and one of Europe's premier esports tournament websites, to create and run the Vengeance Cup as part of the launch of their new Vengeance PC gaming products.
"We are very excited to launch our first online tournament, and the Vengeance Cup is the ideal way to celebrate our new Vengeance line of PC gaming peripherals," said Ruben Mookerjee, VP and General Manager of the Components Business Unit at Corsair. "I am sure that our new FPS-optimized Vengeance K60 gaming keyboard and Vengeance K60 laser gaming mouse will become the weapons of choice for PC gamers who are serious about winning - especially at the professional level - and they are an ideal match for the intensity of Call of Duty 4."
Registration for The Vengeance Cup will begin on Saturday, 17 September 2011, with more than 128 teams expected to take part. The top three teams will split the $10,000 cash purse, with the winning team taking home a phenomenal $6000 prize, with $3000 to the second-place finishers, and $1000 to the third. To register for the Vengeance Cup tournament, view the complete rules and details, or just to watch the action, please visit: vengeance-cup.corsair.com.
Throughout the tournament, Esports Heaven's partner sites TEK-9.org and cadred.org will provide coverage of the competition, including live fixture and score updates, feature content, and more. Vengeance Cup participants and spectators will also have an opportunity to win a variety of Corsair hardware products in random drawings to be held throughout the duration of the tournament.
"With one of the biggest prize purses we've ever offered, we're certain the Vengeance Cup will be one of the premier tournaments this year," said Esports Heaven's Steven Leunens. "We're proud to partner with a great company like Corsair to offer such an exciting competition. We've long been fans of their memory, power supplies, cases, CPU coolers, SSDs and other components, and we're sure to be fans of their new Vengeance PC gaming peripherals too."
Just announced, Corsair's Vengeance line of PC gaming peripherals features seven products tailored to the unique needs of PC gamers, and includes the Vengeance K90 gaming keyboard and Vengeance K90 laser gaming mouse, both optimized for MMO and RTS gaming; the Vengeance K60 gaming keyboard and Vengeance K60 laser gaming mouse, tuned for FPS games; the Vengeance 1500 and Vengeance 1300 gaming headsets; and the Vengeance 1100 "behind-the-head" gaming headset. To learn more about the entire line of Vengeance PC gaming keyboards, laser gaming mice, and gaming headsets, please visit: http://www.corsair.com/vengeance-gaming.html.
About Corsair
Founded in 1994, Corsair supplies high performance products purchased primarily by PC gaming enthusiasts who build their own PCs or buy pre-assembled customized systems. The company's award-winning products include DDR3 memory upgrades, USB flash drives, power supply units, solid-state drives, PC speakers, gaming headsets, gaming keyboards, laser gaming mice, CPU cooling products, and computer cases.
Copyright © 2011 Corsair Memory, Inc. All rights reserved. Corsair and the sails logo are registered trademarks, and Vengeance is a trademark of Corsair in the United States and/or other countries. All other company and/or product names may be trade names, trademarks, and/or registered trademarks of the respective owners with which they are associated. Features, pricing, availability, and specifications are subject to change without notice.
Last updated: Apr 7, 2020 at 12:05 pm CDT