Based on SMART's proven line of enterprise SSD products, XceedStor delivers the same enterprise-class benefits to the cost-sensitive server market.
NEWARK, CA, September 13, 2011 - SMART Modular Technologies (WWH), Inc. ("SMART" or the "Company"), a leading independent manufacturer of solid-state storage products and memory modules, today announced the XceedStor 500S 2.5" SATA SSD, the industry's first SSD designed for the cost-sensitive server market offering the performance and reliability of an enterprise-class drive. Combining advanced controller technology, tier-one OEM-enterprise firmware, proven power fail technology, and the latest generation of multi-level cell (MLC) NAND flash, the XceedStor 500S delivers an enterprise-class SSD at a market-leading value.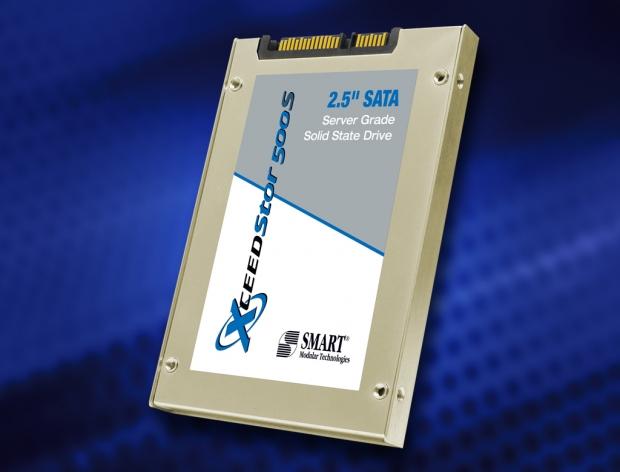 "The enterprise market is ripe for SSD implementations in server applications that offer the low cost of MLC flash with the reliability and performance previously only achievable with single-level cell flash," said Joseph Unsworth, Research Director, NAND Flash and SSD, Gartner. Gartner forecasts* that the total number of SSDs sold for enterprise server applications in 2012 will exceed 3.8 million, with total revenue of more than $1.4 billion. The compound annual growth rate for revenue from 2010-2015 is projected at 34.2%.
The XceedStor 500S SSD was designed specifically to address the growing need for fast and reliable solid-state storage in the server and cloud computing markets. It offers significantly better performance and reliability metrics than competing client-class SSDs currently used in this market. Featuring capacities of 60GB to 480GB and supporting a 6Gb/s SATA interface, the XceedStor 500S SSD provides 500MB/s sequential read/write and 60K/20K IOPS random read/write performance.
"The XceedStor 500S SSD expands SMART's SSD portfolio to address the needs of cost-sensitive enterprise datacenters without sacrificing the high level of reliability and performance required by these applications," said John Scaramuzzo, SMART's Senior Vice President and General Manager, Storage Business Unit. "With the XceedStor 500S SSD, we set out to optimize reliability, performance, and cost, resulting in an enterprise-worthy SATA SSD that enables broad adoption in the enterprise server market."
Leveraging the same high-reliability firmware that has been proven in SMART's existing enterprise class SSDs, the XceedStor also incorporates high-reliability backup-power circuitry to ensure the highest level of data integrity. The XceedStor 500S SSD benefits from the high reliability features of the SandForce enterprise class controller, allowing it to achieve an MTBF of 2 million hours and market-leading data reliability of less than 1 in 1018 bits read.
"SandForce is very excited to continue our great relationship and technological collaboration with SMART and accelerate the adoption of solid-state storage in volume enterprise applications," notes Thad Omura, VP of Marketing for SandForce. "The XceedStor 500S uses the latest SandForce enterprise SSD processor which is equipped with our enterprise tested firmware and feature set, resulting in industry-leading reliability, performance and energy efficiency for the mass server market."
The XceedStor 500S SSD will be available for sampling in October. For additional information on SMART's new XceedStor 500S SSDs and other enterprise storage products, visit www.smartm.com.
*Gartner, Inc., Forecast: Semiconductor Consumption by Electronic Equipment Type, Worldwide, 2Q11 Update, Nolan Reilly, Joseph Unsworth, et al, June 13, 2011.
About SMART
SMART is a leading independent designer, manufacturer and supplier of electronic subsystems to original equipment manufacturers, or OEMs. SMART offers more than 500 standard and custom products to OEMs engaged in the computer, enterprise, industrial, networking, gaming, telecommunications, defense, aerospace and embedded application markets. Taking innovations from the design stage through manufacturing and delivery, SMART has developed a comprehensive memory product line that includes DRAM, SRAM, and Flash memory in various form factors. SMART also offers high performance, high capacity solid state drives, or SSDs, for enterprise, defense, aerospace, industrial automation, medical, and transportation markets. SMART's presence in the U.S., Europe, Asia, and Latin America enables it to provide its customers with proven expertise in international logistics, asset management, and supply-chain management worldwide. See www.smartm.com for more information.
Last updated: Apr 7, 2020 at 12:05 pm CDT