RunCore SSD, the leading SSD manufacturer in China recently announced that they will launch a new micro-chip package (MCP) product, disk-on-chip SSD rSSD T100, which will be released this coming October 2011.
rSSD T100 is a new generation of embedded SSD product of RunCore. It is a multi-chip package which contains multi-interconnected chips that will be used in mobile phones, PDAs, notebook computers or tablet PC or any electronics applications that will use an embedded storage and requires a very limited space in the design board:
1. Very small form factor using BGA package
2. Excellent performance
3. Extremely low power consumption
4. Can work in a harsh environment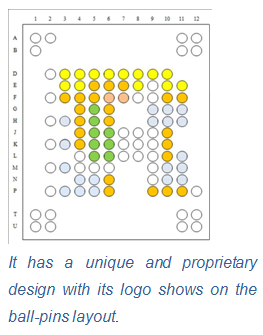 It has a unique and proprietary design with its logo shows on the ball-pins layout. This product can be widely used in handheld POS machine, blu-ray gaming machines, image processing equipments, automatic information inquiry devices, bank counters, communication equipments, industrial control machines, and other embedded devices for industrial and military applications.
The product also supports standard SSD functions like SATA 1.5Gb/s and 3.0Gb/s transfer rate, ECC, wear leveling, trim function, data protection and even SMART commands to monitor the life expectancy of the product.
This MCP also operates in commercial (0C to +70C) and industrial temperature (-40C to +85C).
"MCP products will be the next high market demand in the future, and we foresee that this growth will increase exponentially ", said Jack Wu, the CEO of RunCore.
Based on RunCore's new product development roadmap, MCP first samples will be released in September this year, and the technical documents including the various test results will be completely released in October.
The successful development of rSSD T100 symbolizes that RunCore has taken a new big step to the new embedded market.
For more information about RunCore, please visit our websiteFwww.runcore.com.cn or contact us at the hotlineF400-6196-800.
Last updated: Apr 7, 2020 at 12:05 pm CDT