Hard Drive Duplicator for 2.5" or 3.5" SATA drives features compact, pocket-sized design, can also be used as a hard drive dock adapter for connecting SATA HDDs through eSATA or USB 2.0
Northampton, UK - September 8th, 2011 - StarTech.com, a leading manufacturer of hard-to-find connectivity parts has announced the release of the Standalone Portable Hard Drive Duplicator (SKU: SATDUPUE) - a multi-purpose data storage solution that enables users to either make exact duplicates of their SATA hard drives without a PC, or to connect their bare SATA hard drives to a desktop or laptop computer through either eSATA or USB.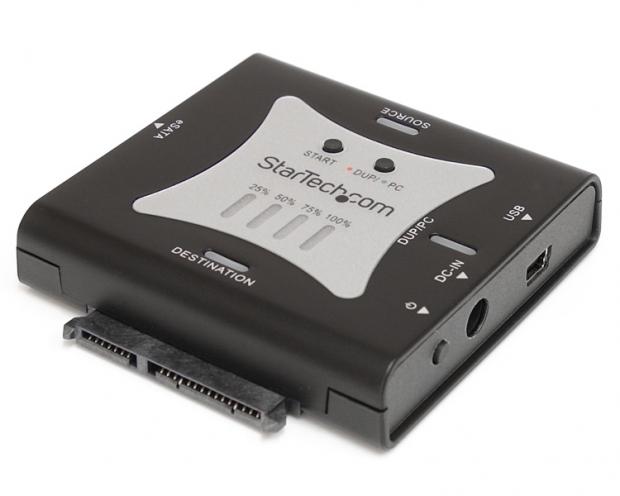 The new duplicator features a compact, pocket/palm-sized design that offers a practical solution for mobile users who require the ability to make exact copies of hard drive content, with the flexibility to connect bare hard drives through either eSATA or USB for simple access to files, data transfers or backups. All of this without the need to install software or even have a PC to hand!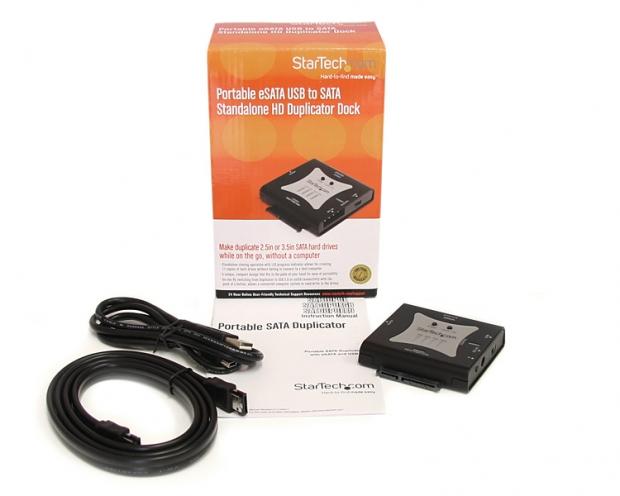 "This latest duplicator caters directly to environments that benefit from being able to mobilize hard drive duplication and data access" said Carey Cline, Senior Product Manager for StarTech.com. "This product offers the perfect solution for Service technicians, IT professionals and computer/law enforcement forensic professionals traveling to multiple locations. This new portable drive duplicator is a unique addition to our full line of drive duplicators and docks, combining the convenience of mobility with the quality and efficiency of our other products."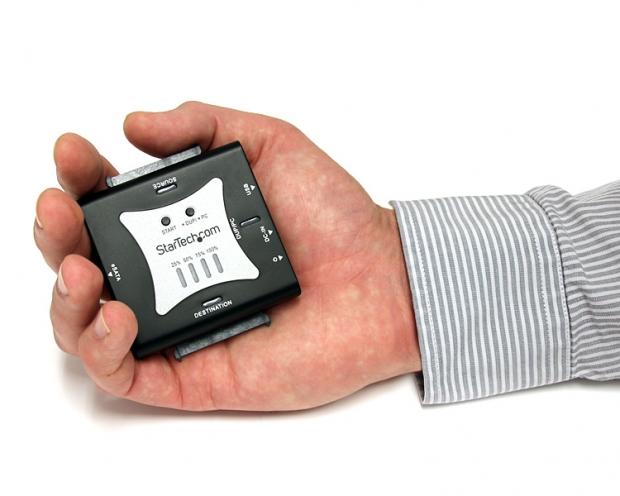 The Standalone Portable Hard Drive Duplicator (SKU: SATDUPUE), offers the following features:
• Sector-by-sector SATA hard drive copying
• Push-button switching between Duplicator mode and HD Docking mode
• LED progress bar indicator for tracking duplication status
• Supports both 2.5" and 3.5" hard drives
• Can be used with the SAT2IDEADP IDE to SATA Hard drive adapter (optional, separate purchase) to add the ability to clone or access IDE hard drives
The Standalone Portable HDD Duplicator is available for purchase from leading technology resellers including Dabs, Insight and Box.co.uk, and is distributed by Ingram Micro, EntaTech and Micro-P.
Suggested retail price for the SATDUPUE is £58.99.
PLEASE NOTE: Any reference made to StarTech.com in articles or other content should reference our full, legal name: "StarTech.com" (not "StarTech")
About StarTech.com
StarTech.com is an ISO 9001:2000 Registered manufacturer of hard-to find connectivity parts including A/V products, computer parts, cables and server management solutions. Founded in 1985, StarTech.com has locations in the United States, Canada, Europe and Taiwan, servicing a worldwide market.
Last updated: Apr 7, 2020 at 12:05 pm CDT