May 2011, Milpitas, CA - HighPoint Technologies, Inc., a leading HBA and storage solutions manufacturer, is now shipping its latest SAS 6Gb/s HBA, the RocketRAID 2711. Designed specifically for workstations and entry-level servers, the RocketRAID 2711 is an external 4-port, SAS 6Gb/s PCI-E 2.0 x8 RAID controller supports SAS/SATA devices in a variety of storage configurations including direct connectivity, SATA JBOD, and SAS expansion.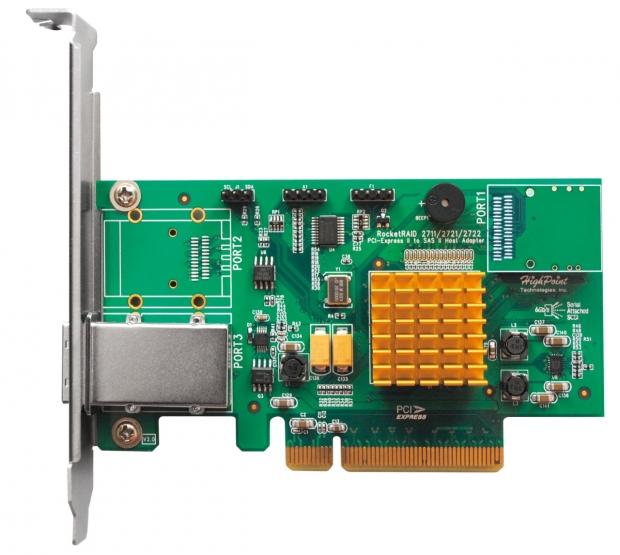 RocketRAID 2711 - Low-Cost, external SAS 6Gb/s Storage for PC's and Mac's
The RocketRAID 2711 delivers enterprise management and connectivity features at entry level costs. The Industry standard external Mini-SAS port (SFF-8088) simplifies installation procedures and is compatible with a wide range of storage devices available for Windows, Linux, FreeBSD and Mac platforms, including the recent release of Mac OS X Lion. The low-profile design allows the card to be integrated into a variety of rack-mount and chassis designs.
The RocketRAID 2711 can support SAS and SATA devices in a multitude of configurations, including non-RAID JBOD's, single disks, and RAID arrays including 0, 1, 5, 6, 10 and 50, and includes Highpoint's Unified Web-Based Management interface, which allows both novices and experts to quickly configure, manage and monitor storage configurations.
Seamless Integration with Existing Storage Infrastructure
The RocketRAID 2711 is fully backwards compatible with SAS/SATA 3Gb/s devices, PCI-Express 1.0 motherboards, and can be easily integrated into existing storage infrastructure. Client's benefit from the clear, hassle free upgrade path; storage configurations can be easily scaled, shared, and migrated between all RR2700 series HBA's, including future product releases.
Availability
The RocketRAID 2711 is available immediately, from a world-wide network of Distribution and Reseller channels.
Distribution Channels: ASI, D&H Distribution, MaLabs, Avnet
E-Commerce Channels: Amazon.com, Newegg.com
About HighPoint
HighPoint designs and manufactures a full spectrum of SAS and SATA HBA's with Management Solutions for wide scale Storage Applications. We are long recognized as an innovator of RAID HBA technology and have continuously developed cutting edge RAID solutions to satisfy the industry's evolving storage requirements. HighPoint is the SAS and SATA Storage Industry price leader for all OEM/ODM, SMB and Enterprise HBA's. HighPoint has a successful track record of delivering products to fortune 500 companies and global storage providers. HighPoint has regional sales offices and world-wide distribution networks to better serve customers locally.
Last updated: Apr 7, 2020 at 12:05 pm CDT