Acquire Performance of 19.2% More
TAIPEI, Taiwan, September 6, 2011 - Motherboard giant, ASRock Inc. is using HyperX® enthusiast memory from the world's independent memory module leader, Kingston Technology Company Inc., to demonstrate Intel's latest XMP 1.3 support for ASRock customers. Intel is planning to release new XMP 1.3 standard in early 2012, but users have an earlier chance to try this brand new technology now! Thanks to Kingston, with the un-released HyperX Series XMP 1.3 memory modules (engineering samples), ASRock had successfully developed the BIOS to load XMP 1.3 support on Z68 Extreme7 Gen3 motherboard.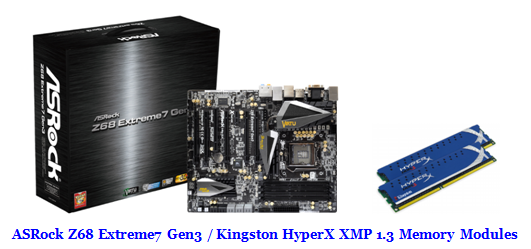 Compared with previous XMP 1.2 version, XMP 1.3 can provide more precise DRAM timing settings! Simply load XMP 1.3 profile in the BIOS to explore the maximum speed of your DDR3 memory! For unbelievably powerful overclocking without having to adjust the settings in BIOS manually, the rig builder should look no longer than the XMP 1.3 support!
Users should also take care that only XMP 1.3-supported motherboard can fully unleash XMP 1.3 memory power! If you are using XMP 1.2 platform motherboard but paired with XMP 1.3 memory modules, then the PC can be only running with lower speed or even fail to boot.
Even more remarkable characteristic is how much performance XMP 1.3-capable motherboards actually gain. Find out the tips to realize the ultimate PC performance; let's check out the latest benchmark reports done by ASRock PC experts.

The superb XMP 1.3 profile provides up to 19.2% performance boost in Sandra 11 SP2-Aggregate Memory Performance test. It's quite interesting to note that when users are using XMP 1.3 memory modules on ASUS and Gigabyt boards, though the BIOS indicates memory support frequency is 1776MHz or 1777MHz, actually the PC can perform at 1600MHz only.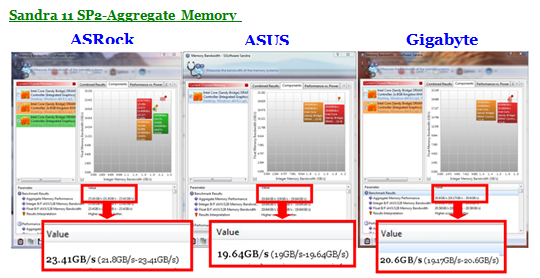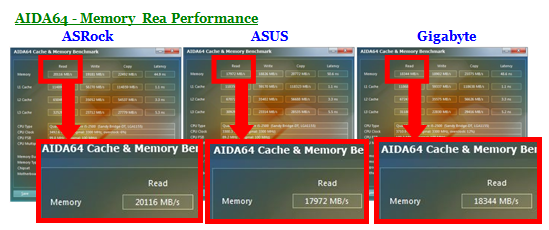 In terms of Sandra 11 SP2-Aggregate Memory Performance and AIDA64 - Memory Read tests, ASRock Z68 Extreme7 Gen3 performs best among three motherboards. XMP 1.3 is undeniably the essential tool for getting the astonishing performance from your memory modules.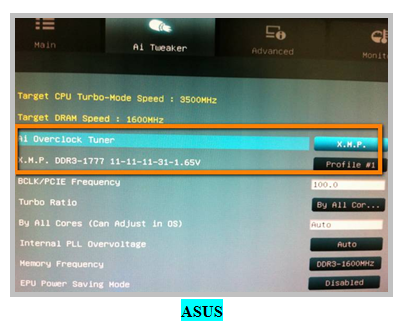 Choosing the motherboard from ASUS, though you are using DDR3 1866 XMP 1.3 memory modules, the maximum speed that DDR3 modules can run should be 1777 MHz. However, ASRock's test indicates that the real frequency that DDR3 can reach is only 1600MHz.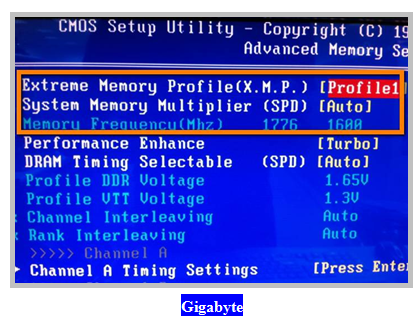 Same problem happens on Gigabyte motherboard as well. The PC is not able to run the correct memory speed with XMP 1.3 memory modules. BIOS shows the highest speed memory modules could perform is DDR3 1776 MHz. After testing, the real speed the PC could serve is only DDR3 1600 MHz.
Choosing ASRock XMP 1.3 mobo and Kingston HyperX XMP 1.3 memory modules, the maximum speed of DDR3 can be up to max 1866 MHz.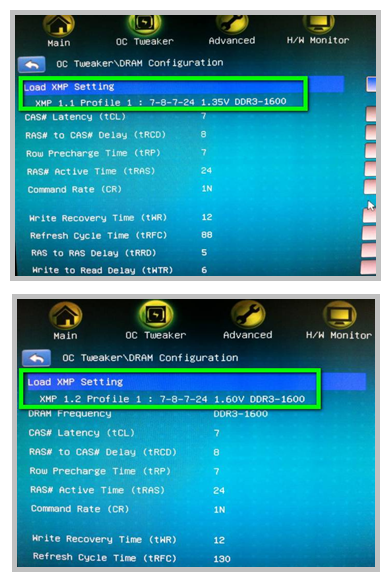 Not only support XMP 1.3, ASRock XMP 1.3-supported motherboard is also backward compatible with XMP 1.1 and XMP 1.2.
Coupled with ASRock XMP 1.3-capable motherboard and Kingston HyperX XMP 1.3 memory modules, the amazing XMP 1.3 profile is able to give the OC enthusiasts the performance they could ever want.
Last updated: Apr 7, 2020 at 12:05 pm CDT