HighPoint Technologies, Inc., an industry leading HBA and storage solutions manufacturer, launches the first of its Dual-Port 5Gb/s USB 3.0 HBA's, the RocketU 1022A. These low-cost, PCI-E 2.0 x1 USB 3.0 SuperSpeed HBA's are ideal upgrades for any desktop PC, and are well-suited for a variety of external storage configurations.
The Introduction of the low-cost Dual Port RocketU USB 3.0 HBA's is in keeping with Highpoint's long standing reputation as the manufacturer of choice for cost-effective, cutting-edge storage HBA's. The RocketU 1022A is a PCI-E 2.0 x1 USB 3.0 SuperSpeed HBA and delivers 5Gb/s of transfer bandwidth. The two type-A ports have been designed to deliver optimal performance for USB 3.0 hard drives and SSD's, and are suited for a wide-range of applications including portable/removable storage, storage expansion, personal media libraries, and backup solutions.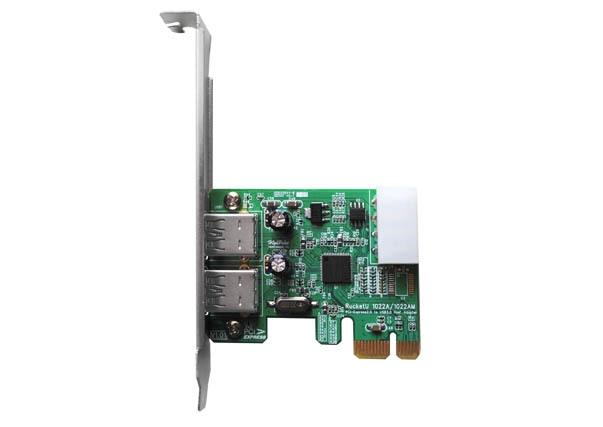 Upgrade any PC with USB 3.0 External Storage
The RocketU 1022A an ideal, low-cost upgrade for any Windows or Linux PC, and has been optimized for external SSD and hard drive configurations.
The RocketU 1022A is fully backwards compatible with every generation of external USB drives and enclosures, and can be easily installed into any free PCI-Express Gen 2.0/Gen 1.0 x1, x4, x8 or x16 slot. Driver support is readily available for all major Microsoft operating systems including 32 and 64-bit versions of Windows 7, 2008 and Vista. The RocketU 1022A is xHCI compliant, and is natively supported by current Linux distributions.
Availability
HighPoint RocketU HBA's are available immediately, from a world-wide network of Distribution and Resellers.
Last updated: Apr 7, 2020 at 12:05 pm CDT