Toshiba Europe Storage Peripherals Division, today announced a new series of USB 3.0 external hard disk drives (HDDs) that meet the high capacity, fast access storage demands of the data-hungry digital generation. The new STOR.E HDD series offers two products, the STOR.E BASICS and the STOR.E CANVIO, with (500GB, 750GB, 1TB) capacities to provide users with flexibility according to their digital needs. Along with high capacities, the USB 3.0 interface delivers fast transfer rates of up to 5 Gigabits-per-second (Gbps), ensuring the quickest access times to your data. Both HDDs come fully equipped with an Internal Shock Sensor and Ramp Loading Alert, which are essential features to protect data against accidental knocks whilst carried around in bags or pockets. The drives come in a range of exciting STOR.E CANVIO colour options, including black, red, green, and blue.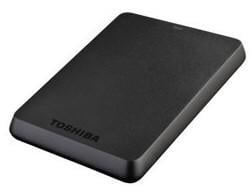 In today's IT/CE environment, data is being produced at a frenetic rate, with 1.8 zettabytes expected3 to be created this year alone, so it's essential that irreplaceable photos, videos and music are backed up and easy to access.
The STOR.E BASICS HDD can accommodate even the biggest digital libraries and is ultra simple to use, with no need to install any STOR.E BASICS software. Weighing just 150 grams (500GB and 750GB model) and 180 grams (1TB model) respectively, its sleek post-card size with plug and play functionality and a simple user interface make it perfectly suited to the digital media needs of users on the go. For users with more demanding storage requirements, the STOR.E CANVIO enables the transfer of large media files at blazing fast speeds, whilst providing peace of mind with full system backup and recovery, offering a practical way to keep large amounts of precious data safe. Sleek and compact, like the STOR.E BASICS, the STOR.E CANVIO HDD is ultra-portable. Its unique pre-loaded software available on STOR.E CANVIO enables data to be backed up seamlessly, so provides additional peace of mind. The pre-installed NTI Backup Now EZ software scans your computer and recommends the best storage options. You then decide between backing up your files to the STOR.E CANVIO HDD, or to online storage in cloud, or choose both for the most comprehensive coverage.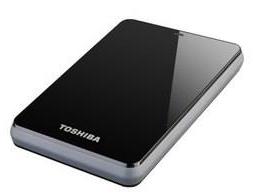 The 1 Terabyte (TB) HDD is an ideal storage solution for media hoarders. It's capable of storing up to 285,000 digital photos4, 263,000 digital music files5, or 820 downloaded digital movies6. The STOR.E CANVIO's Drive Space Alert monitors the drive and indicates when it's getting close-to-full. Arnaud Bonvarlet, Director EMEA, Storage Peripherals Division, said: "The new STOR.E HDD range provides an easy storage solution for backing up valuable data and freeing up storage space on overloaded laptops, PCs or games consoles. The extension of our 3.0 USB external HDD range demonstrates our commitment to delivering cutting-edge storage solutions. Toshiba's new STOR.E 3.0 portable hard drive range makes backup fast and simple, with a digital safety net against system failure." The HDD range will be available in Europe from early forth quarter 2011 and comes with a two year warranty. A demonstration of the STOR.E CANVIO HDD series can be seen at this year's IFA in Berlin, Germany, 2-7 September 2011, the global trade show for consumer electronics and home appliances.
Last updated: Apr 7, 2020 at 12:05 pm CDT