Creative Technology Ltd today announced the Sound Blaster Recon3D, the USB audio device that provides unprecedented cross-platform audio immersion and realism and voice clarity for the Xbox 360, PS3, PC and Mac.
The Sound Blaster Recon3D comes in a compact size similar to a gaming mouse and easily connects to an Xbox 360, PS3, PC or Mac via USB. It dramatically improves the audio playback quality and experience with THX TruStudio Pro, a suite of audio enhancements developed by the collaborative expertise of Creative and THX audio engineers. The Sound Blaster Recon3D features Dolby Digital enabled via the optical input to provide full 5.1 surround decoding, which combines with THX TruStudio Pro Surround to deliver stunning accuracy and positional audio playback over a gaming headset and an amazing virtual multi-speaker movie listening experience over headphones. In addition, for voice communications, the Sound Blaster Recon3D improves voice quality with CrystalVoice processing, which implements innovative technologies that are specially designed to deliver crystal clear vocal fidelity in multiplayer games, online chats and video conferencing.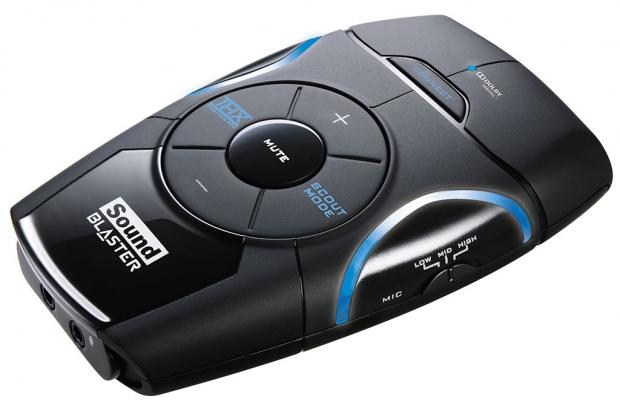 The outstanding audio and voice performance of the Sound Blaster Recon3D is made possible by the power of the integrated Sound Core3D processor, Creative's recently introduced Quartet DSP with four independent processor cores. Engineered for low power consumption and high performance, Sound Core3D is Creative's first sound and voice processor to integrate a four-core high-performance digital signal processor (DSP) and high-quality HD audio digital-to-analog converters (DACs) and analog-to-digital converters (ADCs) on one chip.
"We designed the Sound Blaster Recon3D to enable seamless audio enhancement for all platforms - whether it's a console gaming system or a Mac or PC, Sound Blaster Recon3D provides the best audio experience and voice communications available," said Ryan Schlieper, product marketing manager for audio and gaming at Creative Labs, Inc. "We've been able to accomplish this based upon our heritage of designing and selling more than 400 million sound cards. This simple-to-use solution leverages the evolution of our audio engineering expertise, the Sound Core3D, resulting in the Sound Blaster Recon3D, which enables all gamers to experience dramatically improved sound quality, regardless of platform or content."
The Sound Blaster Recon3D features dedicated controls for instant access to Volume, Mic Boost, and THX TruStudio Pro audio enhancement settings. It also introduces Scout Mode, which enables users to accurately pinpoint targets in FPS games, allowing them to hear their enemies before their enemies hear them, similar to sending out a "Recon-naissance" team to "Recon" on the enemies in the military.
To bring out the best audio performance in any gaming headset, the Sound Blaster Recon3D includes a premium Headphone/Mic preamp. Connectivity options include Micro USB, Stereo Mic In/Headphone/Line out, plus Aux In or Optical In with Dolby Digital Decoding for headphone surround sound.
The Sound Blaster Recon3D works with a Xbox 360, PS3, PC or Mac without requiring the user to install drivers, so it's ideal for portable use in a gaming tournament or LAN party or at a friend's house. As an added feature, users can install the included software on their PC or Mac and set up their own audio profile using THX TruStudio Pro settings. These can then be saved on the Sound Blaster Recon3D for use with an Xbox 360 or PS3. The included software also enables an additional advanced audio toolbox of algorithms, such as a 10-band graphic EQ, bass management, and speaker configuration for use on the PC or Mac.
THX TruStudio Pro includes:
• The THX TruStudio Pro Crystalizer enhances in-game sound, music and movies by restoring low and high end frequency curves lost to compression
• THX TruStudio Pro Surround delivers a 360 degree surround sound gaming experience so gamers can hear sounds clearly from the front, back, above and below
• THX TruStudio Pro Smart Volume addresses the problem of abrupt volume level changes in games, music and movies by intelligently applying gain and attenuation to deliver consistent volume levels
• THX TruStudio Pro Dialog Plus enhances voices in games and movies for clearer dialog, allowing listener to hear the dialog over the rest of sound track and over ambient noise in the listening environment
• THX TruStudio Pro Bass™ fills in the missing low frequency tones and give the extra impact for a better entertainment experience.
CrystalVoice is comprised of:
• Acoustic Echo Cancellation - Eliminates echoes and enables whoever is speaking to listen to the other party clearly. Echoes are a common problem present in voice communication systems that disrupts conversations by making it difficult to hear the other party
• Noise Reduction - Enables who is speaking to be heard clearly over background noise by constantly monitoring the environment and eliminate the unwanted noise that interferes with the conversation
• Smart Volume - Automatically adjusts the loudness of a voice to maintain a consistent volume level. This makes it convenient for the speaker to converse normally, regardless of whether the speaker is close to or far away from the microphone
• FX - Enables alteration of voice with a variety of effects, which can be used to enhance the tone of a voice, create interesting accents, or enable someone to sound like a completely different person
Sound Blaster Recon Omega
The Sound Blaster Recon3D is upgradeable with the optional TacticLink wireless card, so gamers can pair the Sound Blaster Recon3D with the Sound Blaster Tactic3D Omega Headset for wireless audio and communications on all platforms. Creative will introduce the Sound Blaster Recon3D and the Sound Blaster Tactic3D Omega headset packaged together in a special bundle later this year that will include the TacticLink wireless card, providing games with a cross-platform wireless audio experience.
In addition to its multiple uses for gaming, the Sound Blaster Recon3D is so versatile that it can also be used for high-quality audio playback for music and movies. It streams audio from movies such as those played from the Netflix application on the PS3 and Xbox 360, while improving the audio quality and experience.
The Sound Blaster Recon3D is slated for availability in October for US $129.99.
Last updated: Apr 7, 2020 at 12:05 pm CDT