ASUS Reveals the Republic of Gamers MARS II with Dual GeForce GTX 580 GPUs
Aug 18, 2011 8:35 AM CDT
The new ROG MARS II picks up where previous graphics card powerhouses from ASUS ROG left off, and continues the legacy of the finest hardware for hardcore gamers. The limited-edition card is built on twin NVIDIA GeForce GTX 580 GPUs and a mammoth 3GB of GDDR5 video memory, with a proprietary ROG design that combines extreme cooling and extensive tuning facilities that cater to the most demanding power user. It also offers colossal pixel-pushing output that is unmatched by any graphics card.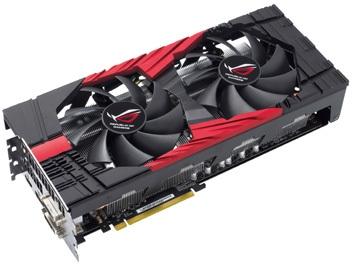 Massive dual GPU power 22% faster performance than reference
The super-powered ROG MARS II reaches new peaks of performance - it runs 22% faster than a reference GeForce GTX 590 and offers tremendous potential. Its launch comes at a very opportune time for dedicated PC gamers, since it will be followed by the arrival this fall of several high-profile games that promise genuine next generation graphics with next generation hardware. The ROG MARS II has so much power it will be able to easily run all native DirectX 11 games in resolutions higher than 1080p and detail settings at their maximum levels. Its twin GeForce GTX 580 cores and 3GB of superfast GDDR5 video memory translate into the superlative performance that gamers are always seeking, representing a new benchmark in graphics dominance.
DirectCU II thermal design 600% greater airflow and 20% cooler than reference
In addition to the trademark red-on-black ROG color scheme, the ROG MARS II has twin 120mm fans that move up to 600% more air than the reference GeForce GTX 590 design, yet still remain quiet even under stress. ASUS DirectCU II technology means the GPU is cooled directly with all-copper pipes and a heatsink base, resulting in 20% lower temperatures. ASUS has also incorporated a Turbo Fan button on the card itself, allowing users to instantly switch the fans to 100% speed, regardless of driver settings. This feature proves very useful in overclocking situations where heat is a factor, as does the solid aluminum shroud that conducts heat away much more efficiently than the materials used in generic graphics cards.
Enhanced with 21-phase Super Alloy Power for a 15% performance boost
The ROG MARS II incorporates exclusive ASUS Super Alloy Power technology, which utilizes a special alloy mix for power delivery components that resist heat and material fatigue far beyond the norm. For this new graphics card, ASUS has expanded the technology to a 21-phase power architecture to ensure constantly stable wattage and prevent power loss, even in the most arduous of circumstances. This guarantees the kind of extensive overclocking headroom that has never before been seen in any graphics card, much to the delight of enthusiasts. As a result, this graphics card design leads to a 15% performance boost, 2.5 times the lifespan and up to 35C cooler performance than reference cards. Users also benefit from a patented PCI-E anti-shock sustainer that keeps the card firmly in its slot, preventing deformation as a result of heat exposure and resisting vibration if the PC case is moved.
Collectors' edition card with GPU Tweak utility
The ROG MARS II is bundled with the exclusive ASUS GPU Tweak utility, which puts users in direct control of the card's extreme hardware. It offers modification of a wide range of performance parameters, including clock speeds, voltages and fan speeds, and all are accessible via a friendly and clear user interface. The GPU Tweak utility puts the immense processing muscle of the ROG MARS II at the disposal of gamers to make an ideal overclocking environment. A laser-carved, sequentially-numbered aluminum plate certifies each card's limited edition status, making each one an icon that's sure to be coveted by collectors.
Product highlights:
Dual NVIDIA GeForce GTX 580 GPUs with 512 CUDA cores each and 3GB GDDR5 video memory for 22% faster than reference performance
Laser-carved aluminum plate identifies each card individually as a limited-edition item
Twin 120mm fans for up to 600% greater air flow
DirectCU II all-copper thermal design - 20% cooler than reference
GPU Tweak interface opens up extensive overclocking and tuning possibilities
Turbo Fan button instantly activates 100% fan speed
Solid aluminum shroud improves heat dissipation
Extra stable 21-phase Super Alloy Power architecture for incredible overclocking headroom - 15% performance boost, 2.5 times longer lifespan and 35C cooler operation
Custom PCI-E anti-shock sustainer keeps the card securely in place at all times
Last updated: Apr 7, 2020 at 12:05 pm CDT
PRICING: You can find products similar to this one for sale below.

United States: Find other tech and computer products like this over at Amazon.com

United Kingdom: Find other tech and computer products like this over at Amazon.co.uk

Australia: Find other tech and computer products like this over at Amazon.com.au

Canada: Find other tech and computer products like this over at Amazon.ca

Deutschland: Finde andere Technik- und Computerprodukte wie dieses auf Amazon.de
Related Tags