German brand EOLIZE is hereby announcing its first Mini-ITX Case aiming for private and corporate market. EOLIZE SVD-NC11-4 chassis is ready to be used for NAS and Home Servers based on common aftermarkets Mini-ITX Motherboards.
Prices for Hard Drives are falling constantly while the capacity increases as well as the demand for mass storage solutions from private and corporate users. Hence puts NAS and Home Servers more into focus of end-users, small and medium-sized businesses. EOLIZE SVD-NC11-4 Mini-ITX chassis is a comparatively cheaper solution for these applications. It furthermore comes in a stylish black overall design to fit in most environments.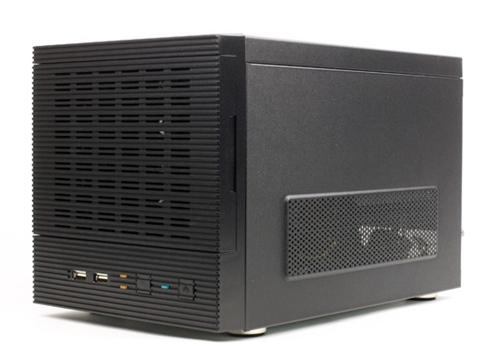 A total of four Hot-Swap Modules are easy to access behind the front panel. Each Hot-Swap Module is equipped with a lock which can be locked individually and two LEDs for visualization of operation and access of each Hard Drive. Common aftermarket 3.5" (8.89 cm) or 2.5" (6.35 cm) Hard Drives can be mounted inside the Hot-Swap Modules which are compliant with the SATA-II standard. Special backplanes are used to provide support of AHCI (NCQ) and RAID functions. Yet, compatible RAID configurations depend highly on the functions of the Mini-ITX-Motherboard or the built-in RAID Controller.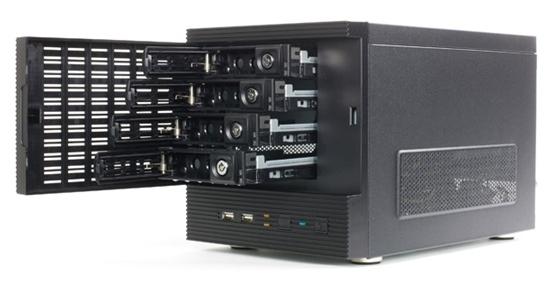 To assure stable operation an efficient 200 Watt Flex-ATX Power Supply Unit is already built-in. It allows the utilization of one 20/24-pin ATX Power Connector, one 4-pin 12V-P4 CPU Power Connector and two 4-pin Molex Power Connectors for the SATA Backplane. Appropriate airflow inside the EOLIZE SVD-NC11-4 chassis is accomplished by adding a 120 mm case fan which rotates at 1,400 rpm. Furthermore it is possible to use one full-size PCI or PCI-Express expansion card. On the bottom side of the front panel two USB 2.0 connectors, one Power Button, one Reset Button and the corresponding LEDs are located.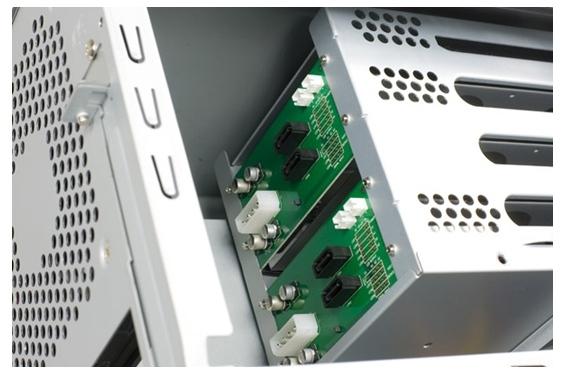 SVD-NC11-4 Mini-ITX-Chassis is available as of today in the official EOLIZE online shop for 139 EUR (incl. 19% VAT) or other European shops.
**********************************************
EOLIZE SVD-NC11-4 Product Page
EOLIZE SVD-NC11-4 High Resolution Images
**********************************************
About EOLIZE
EOLIZE is a young brand which was has it root in Germany. Focus of the brand EOLIZE lays on High-End Mini-ITX, NAS and Home Server Chassis as well as other relevant products. Product range is available throughout the European Union, Ukraine and Russia. It is furthermore possible to obtain the EOLIZE products in the official Online Shop of the brand allowing direct access for end-users as well as resellers and corporate customers.
Last updated: Apr 7, 2020 at 12:05 pm CDT