-- Future Proof Your Platform for Next Generation Intel 22nm CPUs --

Taipei, Taiwan, August 8, 2011 - GIGABYTE TECHNOLOGY Co., Ltd, a leading manufacturer of motherboards, graphics cards and computing hardware solutions today announced their entire range of 6 series motherboards are ready to support the next generation Intel 22nm CPUs (LGA1155 Socket) as well as offer native support for PCI Express Gen. 3 technology, delivering maximum data bandwidth for future discrete graphics cards.
Wanting to provide maximum upgradeability to customers, GIGABYTE has enabled native support for PCI Express Gen. 3 across the entire range of GIGABYTE 6 series motherboards, including the recently launched G1.Sniper 2 motherboard, when paired with Intel's next generation 22nm CPUs. By installing the latest BIOS for their 6 series motherboards today, users can be assured they are ready to take advantage of all the performance enhancements tomorrow's technologies have to offer.
To future proof your GIGABYTE 6 series motherboard, please download and install the latest BIOS update for your motherboard model from the GIGABYTE website: www.gigabyte.com.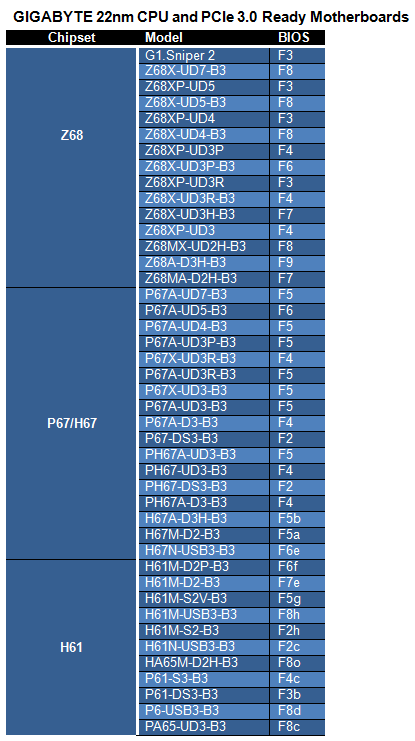 About GIGABYTE
GIGABYTE Technology Co. Ltd., headquartered in Taipei, Taiwan, is known as a leading brand in the IT industry with branch offices located in 24 countries around the world. Founded in 1986, GIGABYTE started as a small research and development team and has since taken a position as one of the in the world's top motherboard manufacturers. In addition to motherboards and graphics cards, GIGABYTE further expanded its product portfolio to include notebook and desktop PCs, datacenter servers, networking products, mobile handsets, and home entertainment devices to serve each facet of the digital life in the home and office. Everyday GIGABYTE aims to "Upgrade Your Life" with innovative technology, exceptional quality, and unmatched customer service. Visit www.gigabyte.com for more information.
Last updated: Apr 7, 2020 at 12:05 pm CDT