Product allows non-HDMI enabled computers to output HDMI video and audio to any HDMI display including televisions, monitors and projectors
Northampton, UK - July 19th, 2011 - StarTech.com, a leading manufacturer of hard-to-find connectivity parts has announced the release of the USB to HDMI Adapter (USB2HDMI) - a convenient multi-monitor solution that enables users to connect an HDMI®-capable display to a Windows® or Mac®-based laptop or desktop computer, through a USB 2.0 port.
The adapter is a cost-effective solution for adding a secondary monitor or several monitors (using multiple adapters), without having to update the computer video card, or even open the computer case. The adapter offers practical, scalable technology that could be utilized in many environments, including business and home applications. As a solution for enterprise or SOHO business users, the adapter makes it easy to add multi-monitor configurations for the sake of improved employee productivity, while home-users/end-users could benefit from the adapter's use as a cost effective way to connect their home computer to an HDTV, for watching videos, viewing photos, or simply using the Internet.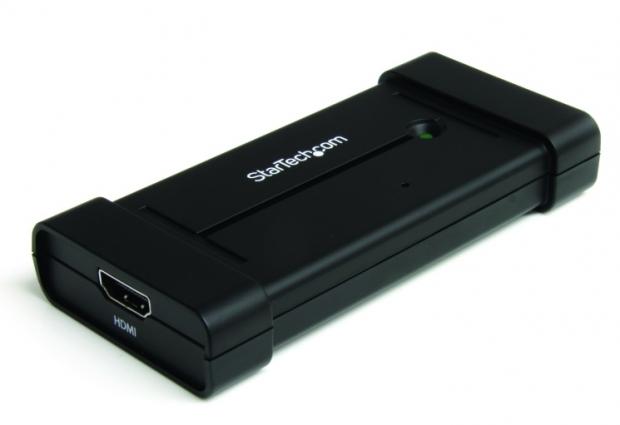 "We discovered that people were looking for an easier way to output video and audio from their non-HDMI enabled computers to an HDMI display" said John Mardinly, Senior Product Manager for StarTech.com. "As is the case with many of our other USB adapters we offer, this adapter allows older computers to be used with today's cutting-edge technology."
The USB to HDMI Adapter offers the following features:
• Support for 1080p display resolutions (1920 x 1080), 720p video playback recommended
• USB-powered - the adapter draws power from the host USB connection, with no need for an additional power supply/adapter
• Supports the Windows Aero® interface in Windows Vista and Windows 7
• Supports 2-channel (stereo) audio
The USB to HDMI Adapter (SKU: USB2HDMI), is available from leading resellers including Misco, Insight and Amazon and is distributed by Ingram Micro, EntaTech and Micro-P. MSRP for this product is £83.99 GBP exc. VAT.
For more information about this announcement, please contact Andrew Stephen at 00 800 7827 8324 ext. 1248 or astephen@startech.com.
HDMI, the HDMI Logo, and High‐Definition Multimedia Interface are trademarks or registered trademarks of HDMI Licensing LLC in the United States and other countries.
Windows is a registered trademark of Microsoft Corporation in the United States and other countries.
About StarTech.com
StarTech.com is an ISO 9001:2000 Registered manufacturer of hard-to find connectivity parts including A/V products, computer parts, cables and server management solutions. Founded in 1985, StarTech.com has locations in the United States, Canada, Europe and Taiwan, servicing a worldwide market.
Last updated: Apr 7, 2020 at 12:05 pm CDT