Intel® Z68 Gets Weaponized, Locked, Loaded and Ready to Deploy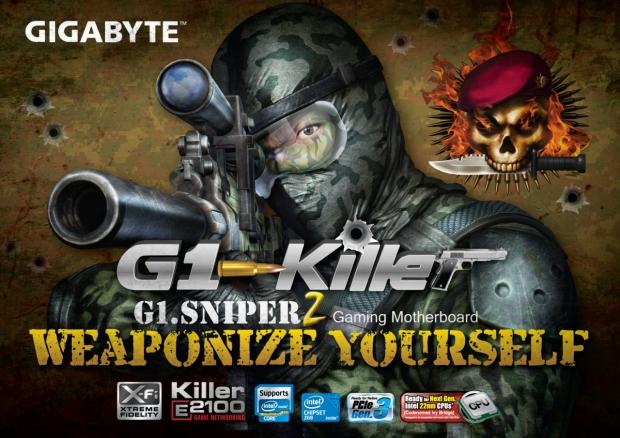 City of Industry, California, August 4th 2011 - GIGABYTE TECHNOLGY Co. Ltd., a leading manufacturer of motherboards and graphics cards, today announced the launch of the new G1.Sniper 2 motherboard, the latest G1-Killer Series motherboard designed for extreme gaming on the latest Intel® Z68 chipset and Intel® i7 Core 'Sandy Bridge' processors. Featuring several state-of-the-art onboard solutions from renowned industry leaders Creative and Bigfoot Networks, as well as many additional and exclusive GIGABYTE features, the GIGABYTE G1.Sniper 2 motherboard takes no prisoners in its quest for gaming supremacy.
"The GIGABYTE G1.Sniper 2 brings our acclaimed no mercy G1-Killer gaming philosophy to Intel's mainstream Z68 platform", commented Henry Kao, Vice President of GIGABYTE Motherboard Business Unit. "From listening closely to the gaming community, it's clear that this is an eagerly anticipated motherboard, and one that will guarantee the fearlessly uncompromising gaming experience that so many of our customers crave."
"Intel is pleased to see GIGABYTE extend its G1-Killer series to the high performance Intel® Z68 Chipset platform", said Zane Ball, General Manager of Intel Desktop Platforms. "In combination with our 2nd generation Intel® Core™ processors, the new GIGABYTE G1.Sniper 2 motherboard will offer an incredibly potent platform for today's hardcore gamers."
"We're excited to continue our great working relationship with GIGABYTE to give gamers the competitive advantage of Sound Blaster audio on the G1.Sniper 2 Gaming Motherboard," said Steve Erickson, VP and GM of audio and video at Creative. "When it comes to extreme gaming, dedicated Sound Blaster X-Fi 20K2 onboard processing with EAX 5.0 technology blows away the performance of any integrated chipset with host audio on the market."
"GIGABYTE continues to push the boundaries of performance and functionality with their new Z68-based G1.Sniper 2 gaming motherboard" said Michael Howse, CEO of Bigfoot Networks. "Designed for online gamers and media junkies, it includes our latest Killer™ E2100 Gaming Platform for smarter, faster networking. And with our new Advanced Stream Detect™ technology, GIGABYTE's new G1.Sniper 2 motherboard provides unparalleled networking performance for online games, streaming media and real-time communications."
GIGABYTE G1.Sniper 2 Key Features
2-way CrossFireX™ and 2-way SLI™ Support
The GIGABYTE G1.Sniper 2 is equipped to help extreme gamers see the enemy through the fog, offering the utmost graphics flexibility and upgradeability with multiple GPU support, that includes two PCI Express slots for both AMD CrossFire™ X and Nvidia SLI™ technologies in 2-way discrete card configurations. The GIGABYTE G1.Sniper 2 motherboard delivers maximum FPS (frames per second), allowing gamers to see more clearly, aim faster, and move more quickly.
PCI Express Gen. 3 Support
The GIGABYTE G1.Sniper 2 is one of the first motherboards to provide gamers with the latest Gen.3 PCI Express technology, delivering maximum data bandwidth for the latest discrete graphics cards.
Onboard Creative Soundblaster X-Fi Digital Audio Processor (20K2)
Being able to hear where your enemy is located before you see them can put you at a distinct advantage in most gaming situations. That is why GIGABYTE has rigged the G1.Sniper 2 motherboard with the industry's most advanced audio solutions to give you the highest caliber audio experience. The GIGABYTE G1.Sniper 2 motherboard, as a member of the GIGABYTE G1-Killer series, is one of the world's only gaming motherboards to feature Creative's top-of-the-line Soundblaster Digital Audio Processor (20K2) onboard with X-Fi Xtreme Fidelity® and EAX® Advanced HD™ 5.0 technologies, allowing you to experience sound in your gaming world exactly as you would in real life.
Built-in Front Audio Headphone Amplifier
Specially designed for gamers, the GIGABYTE G1.Sniper 2 motherboard utilizes a high capacity amplifier which is able to drive 150Ù loads, allowing gamers to enjoy a fuller range of dynamic, crisp sound when using high quality professional headphones.
Nichicon High-end Audio Capacitors
The GIGABYTE G1.Sniper 2 motherboard utilizes the highest quality Nichicon MUSE ES series and MW series Bi-Polarized audio capacitors at each channel layout. These professional audio capacitors deliver the highest quality sound resolution and sound expansion to create the most realistic sound effects for professional gamers.
EMI and Power Interference Shielding
100% copper shielding around the audio components improves EMI shielding and protects against other power interference, providing the highest quality sound resolution for a distortion-free audio listening experience.
Onboard Bigfoot Networks Killer™ E2100 Game Networking Platform
GIGABYTE is the only motherboard manufacturer to seriously address online gaming network lag issues by implementing the Bigfoot Networks Killer™ E2100 Game Networking Platform directly onboard the G1.Sniper 2 series motherboard. Utilizing a unique combination of dedicated Network Processing Unit (NPU) and exclusive Killer™ Network Manager software, the Bigfoot Networks Killer™ E2100 is designed to provide the best online experience possible for online gamers.
Killer™ E2100 Dedicated NPU
Dedicated Network Processing Unit (NPU) with 1Gb of dedicated DDR2 memory helps offload network traffic from the CPU, freeing it up to do other important computing tasks.
Killer Network Manager
Built from the ground up for unequalled speed, intelligence and control over online game data and streaming media, Killer™ Network Manager is the network control center for the G1.Sniper 2 motherboard. This unique and exclusive application shows the networking health and performance of the G1.Sniper 2 and provides all the tools needed to manage and optimize the network connection for online games and streaming entertainment.
Advanced Stream Detect
Bigfoot Advanced Stream Detect is at the heart of Killer™ Networking Platform, intelligently prioritizing important streams, such as games, HD video, video chat and high-quality streaming audio. Now, users can enjoy silky-smooth online gaming, stutter-free streaming entertainment and crystal-clear voice chat - all at the same time. With Visual Bandwidth Control™, users have the power to adjust bandwidth for ANY network stream. Download files, play online games or even watch a video all at the same time - it's all possible now with the Killer™ E2100 Game Networking Platform.
Locked and Loaded Heatpipe Design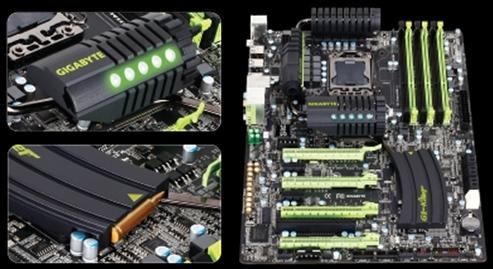 The GIGABYTE G1.Sniper 2 features the distinctive heatpipe design that identifies all GIGABYTE G1-Killer series motherboards. You'll soon find that it is as deadly to heat as it looks.
By effectively spreading the heat from the critical areas of the motherboard such as the CPU VRM zone and quickly dissipating it, all GIGABYTE G1-Killer series motherboards remain cool, even when the battle heats up. Modeled after common firearms issued to soldiers deployed to a warzone, including pistol, rifle and ammo magazine, the Locked and Loaded heatpipe design utilizes a unique fluting technology similar to a rifle barrel fluting, which allows for maximum heat dispersion.
Intel® Z68 Express Chipset Support
Supporting the new 2nd generation Sandy Bridge Intel® Core™ processors, the G1.Sniper 2 brings several technical enhancements and features never before seen on an extreme gaming motherboard. These features include Intel® Smart Response Technology, Intel® Quick Sync Video and LucidLogix Virtu™ GPU Virtulization. The G1.Sniper 2 also supports forthcoming 22nm processors.
Intel® Smart Response Technology
The GIGABYTE G1.Sniper 2 motherboard features Intel® Smart Response Technology, allowing users to experience system performance similar to SSD only systems by using intelligent block-based caching of frequently used applications to improve system performance and responsiveness, outperforming HDD-only systems by as much as 4X (PC Mark Vantage HDD Score).
GIGABYTE EZ Smart Response
GIGABYTE G1.Sniper 2 users can also take advantage of the exclusive GIGABYTE EZ Smart Response utility, allowing a user-friendly and automatic Intel® Smart Response setup, without having to perform an operating system reinstallation and BIOS reconfiguration. This allows you to quickly and effortlessly enjoy a significant boost in system performance.
Intel® Quick Sync Video
Intel® Quick Sync Video makes fast work of creating, editing, synchronizing, and sharing videos-at home and online- without the expense of additional hardware. In fact, Intel Quick Sync Video delivers up to 5X faster media processing than any other solution for incredibly fast conversion of video files for portable media players or online sharing.
Switchable Graphics with LucidLogix Virtu GPU Virtualization
The GIGABYTE G1.Sniper 2 motherboard supports LucidLogix Virtu™ GPU Virtualization technology which allows users to dynamically switch between their built-in graphics and their high-end, 3D discrete graphics cards. In so doing, switchable graphics help to dramatically reduce PC graphics power consumption while boosting performance when it is needed most.
GIGABYTE Touch BIOS™
Navigating through the BIOS to change system settings can be a daunting task for users not familiar with control "F" functions and mouse-less navigation. While some BIOSes try to address this with a mouse friendly environment, many implementations still lack a certain ease-of-use necessary for most people. With Touch BIOS™, GIGABYTE engineers have completely re-imagined how users can interact with their BIOS, allowing for a more intuitive user experience whether using a keyboard, mouse or touch screen monitor. In fact, with a touch screen monitor, GIGABYTE Touch BIOS™ is as easy to use as most apps on an iPhone.
To learn more about the GIGABYTE G1.Sniper 2 motherboard and the GIGABYTE G1-Killer series, please go to: http://www.gigabyte.com/microsite/259/index.html
About GIGABYTE
GIGABYTE Technology Co. Ltd., headquartered in Taipei, Taiwan, is known as a leading brand in the IT industry with branch offices located in 24 countries around the world. Founded in 1986, GIGABYTE started as a small research and development team, quickly rising in prominence to become one of the world's top motherboard manufacturers. In addition to motherboards and graphics cards, GIGABYTE has further expanded its product portfolio to include notebook and desktop PCs, datacenter servers, networking products, mobile handsets and home entertainment devices - serving each facet of our digital life in the home and office. Everyday GIGABYTE aims to "Upgrade Your Life" with innovative technology, exceptional quality, and unmatched customer service. In 2011, GIGABYTE celebrates its 25th anniversary, and a quarter of a century committed to quality, excellence and serving our customers with the utmost enthusiasm and professionalism. We look forward to navigating the future at full sail.
Visit www.gigabyte.us for more information.
Last updated: Apr 7, 2020 at 12:05 pm CDT