Thermaltake's New Aesthetics Evolutionism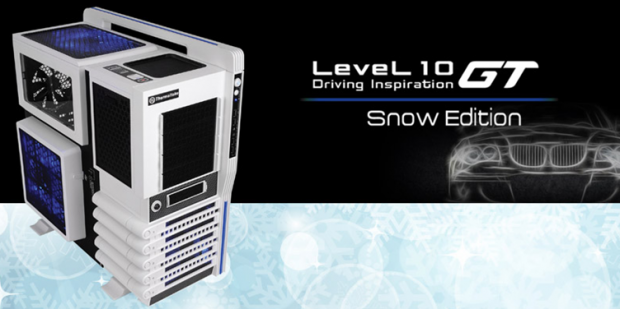 Thermaltake Technology continues to fulfill the corporate mission of gdelivering the perfect user experienceh, and regard gbuilding Thermaltake Technology into a cultural brand for the enjoyment of entertainment, e-Sports, technology and lifestyleh as a vision, in order to bring the joy to all the users worldwide. Since the collaboration with BMW DesignworksUSA for the creation of gLevel 10h and got awarded with gred dot design award : product design 2010h, the gLevel 10 GTh, especially built for e-Sports gamers and DIY enthusiasts, deriving from the concepts of Thermaltake and BMW DesignworksUSA, has also got the award of gred dot design award : product design 2011h which is recognized as the Oscar Award of the designing field this year, breaking an impressive record!
This July, with the special and unique aesthetics evolutionism that Thermaltake has, the new exciting professional eSports chassis yLevel 10 GT Snow Editionzcaptivates with a purist design and expresses a passion for visual aesthetics combined the dark black and pure white to give all users a new visual experience. It is more than just a high-end gaming chassis, but rather a true piece of art, allowing gamers and enthusiasts to experience the power of their high-end computers through the sophisticated designI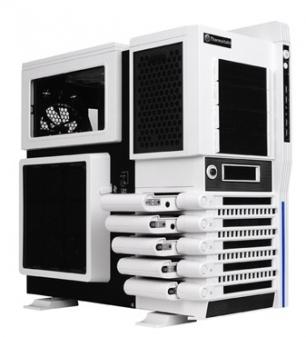 Superior Cooling system
(Level 10 GT Snow Edition) is a solid quality eSports chassis, featuring superior air flow to prolong the life of the computer accessories. In order to meet the demand for both DIY and eSports with a trendy look and fulfill gaming quality requirements, the implementation of Thermaltakefs QuadFan (Three oversized 200mm ColorShift fans and one 140mm TurboFan) Ventilation concept creates an ideal environment for your components to unfold their full potential. In corporation with the superior cooling system, the water-cooling ready design for enthusiasts features an innovative top removable panel that can be easily transformed to accommodate high-efficiency 24cm radiator. Moreover, all intake fans come with convenient built-in dust filter that can be easily cleaned.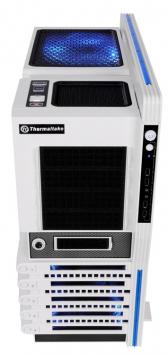 Extras for customers who want even more from the yLevel 10 GT Snow Editionz
Thanks to an innovative technology, Thermaltake is very sensitive to its Udersf requests, and always think ahead, theyLevel 10 GT Snow Editionz professional eSports chassis emphasizes on the interior space, and has 5 sets of hot swappable hard drive trays for convenience and upgradeability. It provides greatest storage flexibility and maximum data transfer speeds. The side panels and hard drives are secured by an advanced lock system to keep data and hardware safe and secure. With 2 SuperSpeed USB 3.0 connectors right on the top of the yLevel 10 GT Snow Editionz professional eSports chassis, that guaranteed to operate multimedia peripherals at tremendous data transfer velocities. Moreover, yLevel 10 GT Snow Editionz professional eSports chassis has implemented intelligent layout and abundance of room for supporting largest components in each category and graphic card up to 370 mm.
Up-to-date information is available from : http://www.thermaltake.com/home.aspx
About Thermaltake
Thermaltake Technology was established in January, 1999 and has been market to the world with gThermaltakeh brand name ever since. The brand personality of Unique, Aggressive, Vivid, and Stylish makes Thermaltake an expert in creating Exciting things and Fascinating environment for gamers and enthusiasts, also Keep them Constantly High physically and mentally.
Last updated: Apr 7, 2020 at 12:05 pm CDT