Turtle Beach, the market leading pioneers of the gaming headset category, today announced the Ear Force X12 Stereo Amplified Gaming Headset for Xbox 360 and PC. The X12 features massive 50mm speakers for enhanced audio immersion along with an In-line Amplifier for precision audio control at your fingertips. With Microphone Monitoring and Variable Bass Boost included, the X12 continues the Turtle Beach tradition of delivering superior gaming audio at an affordable price.
Designed primarily for the Xbox 360, but compatible with PC, the X12 is the next generation of the bestselling and battle-tested X1, which created the console headset category in 2007, and the X11, which has been the bestselling Xbox stereo headset in history. The X12 features vastly improved sound quality and a rugged but lightweight, ergonomic design that provides gamers with an enhanced audio experience and comfort during long gaming sessions. The USB powered, the X12 never needs batteries and combines crystal-clear audio with advanced features for an attractive and affordable package no gamer can pass up.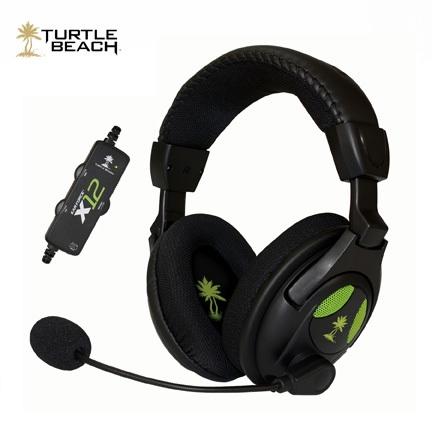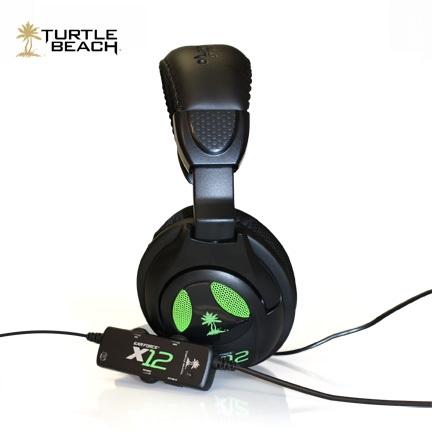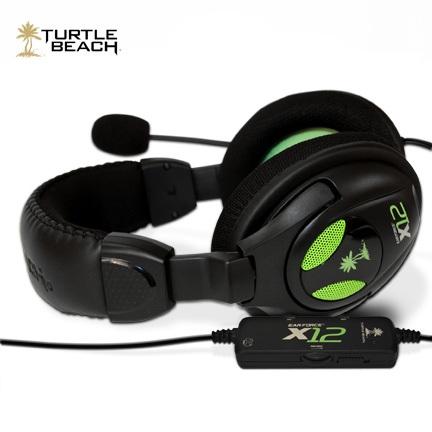 "As the record breaking sales of the X1 and X11 have already shown, avid gamers are serious about audio and will seek out equipment that will enhance their experience and skills." says Michael Arzt, VP of Marketing and Sales for Turtle Beach. "Turtle Beach strives to support serious gamers of all levels by constantly refining and improving even our best-selling products and the new X12 represents this commitment to audio quality and high performance while still retaining the unmatched value that the X-series is known for."
Key features and benefits of the Turtle Beach Ear Force X12 include:
- Amplified stereo audio for crisp highs and deep lows
- Premium 50mm speakers for highest fidelity sound
- Variable Bass Boost adds depth and realism to the game audio
- In-line amplifier that allows independent control of chat, bass and game volume
- Microphone Monitoring so you never have to raise your voice to hear yourself
- Completely powered by USB so you will never need replacement batteries
- Lightweight design with breathable, fabric mesh ear cushions for enhanced comfort
- Fully-compatible with the DSS 7.1 Surround Sound Processor
- The Turtle Beach Ear Force X12 Gaming Headset will be available this Fall at an MSRP of $59.95 at gaming and major retailers.
Last updated: Apr 7, 2020 at 12:05 pm CDT