Taipei, Taiwan, July 26 2011 - Leading memory storage brand, SP/Silicon Power today announces the launch of its first SATA III Solid State Drive (SSD), the Velox Series V30. Continuing the efficiency and stability of the V20, the V30 employs the highest spec SATA III 6 Gbps interface on the market, while remaining backwards compatible with the SATA II Gbps interface. Running at over double the efficiency of the SATA II interface, the V30 is a top level product that can meet the needs of computer gamers and professional computer users alike.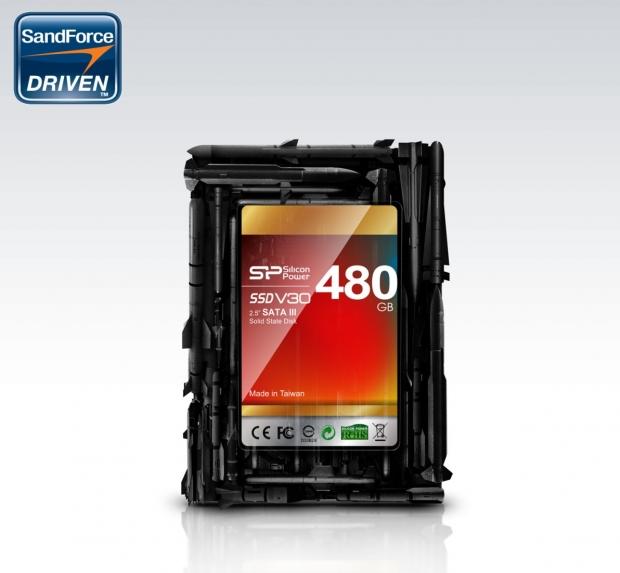 The SP/Silicon Power V30 SSD uses a SandForce controller chip, enabling it to reach a top read speed of 550 MB/s, and top write speed of 500 MB/s. It also supports TRIM command and Garbage Collection technology, resolving the issue of decreased efficiency in SSDs used for long periods of time.
The V30 SSD employs multiple techniques to strengthen the product's stability and durability. These include: DuraWriteTM and wear leveling, which extends the endurance of MLC memory providing at least 5 year lifecycles with 3-5K cycle MLC flash; Implementation of ECC (Error Checking & Correction) technology then ensures reliability of data transmission; and built-in SMART (Self-Monitoring, Analysis & Reporting Technology) enables consumers to check on the product's operating status at any time.
The SP/Silicon Power V3 SSD hard drive comes with a 3 year warranty, and a complimentary 3.5" adapter bracket that allows easy installment. Come and immediate experience of the SATA III super-high efficiency!
High Efficiency & High Stability
- SATA III 6Gbps backwards compatible with SATA II 3Gbps
- Super-high transfer rate: 550MB/s max. read speed / 500MB/s max. write speed
- Supports TRIM command and Garbage Collection technology
- Equipped with DureWriteTM and wear leveling, to extend endurance
- Implement with ECC technology to guarantee data transmission reliability
- Built-in with SMART monitoring system
- Low power consumption
- Shock & Vibration-proof
- Noiseless operation, no latency delay and no seek error
- 3 year warranty
Specification
- Capacity: 60GB/120GB/240GB/480GB
- Dimensions: 100mm x 69.85mm x 9.4mm
- Weight: 70g
- Complimentary 3.5" Adapter Bracket
- Vibration Resistance Test: 20G
- Shock Resistance Test: 1500G Max
*Transfer rates may vary, depending on system platform.
About Silicon Power
Silicon Power/ SP since founded in 2003 devotes itself in own brand manufacturing and international expansion. The company has been recognized by numerous customers in more than 100 countries. Within a decade of establishment, SP becomes the world's leading manufacturer of flash memory cards, USB flash drives, card readers, DRAM modules, solid state disks, and portable hard drives. With footprint around the world, SP has built branch offices in Netherlands, Japan, Russia, and Mainland China and continuously expands its presence in the U.S., South America, Europe, and major emerging markets.
Last updated: Apr 7, 2020 at 12:05 pm CDT