Double the Capacity of each SAS 6Gb/s Port without Doubling the Costs
July 2011, Milpitas, CA - HighPoint Technologies, Inc., an industry leading HBA and storage solutions manufacturer, announces the availability of its Revolutionary SATA JBOD Storage Solutions - RocketRAID 2700 SAS 6Gb/s PCI-E Gen 2HBA's with SATA JBOD Device Boards. Available for PC and Mac platforms, HighPoint SATA JBOD solutions increase the device capability of each SAS 6Gb/s port, while providing real-time enclosure monitoring and
management services. Highpoint SATA JBOD Solutions can be tailored to support a wide range of high-density storage applications, and represent the industry's first truly cost-effective alternative to high-dollar SAS-Expander configurations.
Industry First - 8-Port SAS 6Gb/s RAID 6 - MSRP $140
HighPoint breaks new ground for the storage industry, and continues its role as the low-price leader for professional HBA's. HighPoint makes RAID-6 affordable for low-cost for SMB applications. The 8-Port RocketRAID 2720 SGL's Dual-Parity RAID 6 capability at a phenomenally low MSRP's of $140, is unprecedented. Customers can save 60% or more over competing HBA's.
HighPoint External SATA JBOD Device Boards - EJ220
EJ220 Device Boards double the number of drives that each SAS 6Gb/s port can support. The single SFF-8088 port interfaces with the RocketRAID 2700 HBA, while the two SFF-8087 (internal Mini-SAS) ports can support up to 8 SATA hard disks installed into the target storage device. EJ220 Device Boards provide multiple fan ports, an audible alarm, and LED pins for enclosure monitoring services, error and warning notification.
Dynamic Storage Expansion
High port-count HBA's, such as the RocketRAID 2744, are capable of supporting multiple EJ220's, and one or more external storage devices. In addition, multiple EJ220's can be integrated into storage devices designed to host more than 8 drives. This simple, yet versatile design allows clients to add storage and expand available capacity as needed.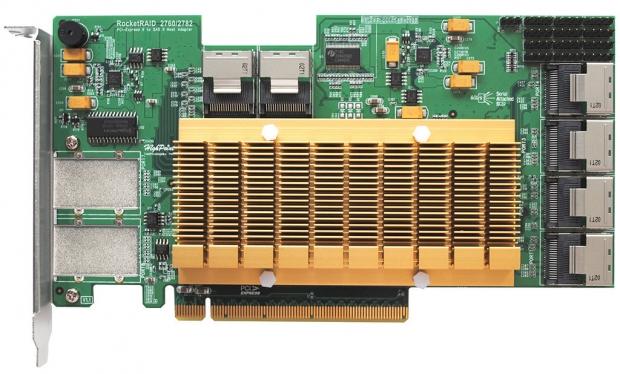 RocketRAID 2700 HBAs provide comprehensive RAID level support including 0, 1, 5, 6, 10, 50 and JBOD. Advanced RAID features such as Online Capacity Expansion (OCE) and Online RAID Level Migration (ORLE) allow clients to expand, upgrade or convert RAID existing configurations as needed without compromising data.
Unified Storage and Enclosure Management Suite
HighPoint SATA JBOD Device solutions provide robust tool sets for the system administrator. A single-click storage overview provides users with clear, concise summaries of all hosted storage devices, including configured disk space, available capacity, and the status of individual drives, enclosures, HBA's and RAID configurations. A real-time monitoring service analyzes internal temperature readings, the status of power supplies, and provides controls for fan speeds.
This outstanding selection of control and monitoring services have been seamlessly integrated with the RocketRAID 2700 series Web-based interface, into a comprehensive, unified Storage Management Suite.
Availability and Pricing
HighPoint SATA JBOD Device Solutions are available immediately, from a world-wide network of Distribution and Reseller channels.
MSRP:
Evaluation packages are available for the SMB Integrator - please contact Sales for more information:
sales@highpoint-tech.com
EJ220 External SATA JBOD Device Board: $109.00
RR2782 (24-port int. / 8port ext.): $849.00
RR2744 (16-port external): $499.00
RR2722 (8-port external): $299.00
RR2711 (4-port external): $179.00
RR2721 (4 int. / 4 ext. ports): $249.00
Distribution Channels: ASI, D&H Distribution, MaLabs, Avnet
About HighPoint
HighPoint designs and manufactures a full spectrum of SAS and SATA HBA's with Management Solutions for wide scale Storage Applications. We are long recognized as an innovator of RAID HBA technology and have continuously developed cutting edge RAID solutions to satisfy the industry's evolving storage requirements. HighPoint is the SAS and SATA Storage Industry price leader for all OEM/ODM, SMB and Enterprise HBA's. HighPoint has a successful track record of delivering products to fortune 500 companies and global storage providers. HighPoint has regional sales offices and world-wide distribution networks to better serve customers locally.
Last updated: Apr 7, 2020 at 12:05 pm CDT