OCZ Technology Group, Inc., a leading provider of high-performance solid-state drives (SSDs) for computing devices and systems, today unveiled the Indilinx Everest SATA 3.0 SSD platform. The Everest platform features support of 6Gbps interface speeds, high transactional performance that is optimized for compressed files, and maximum capacities up to 1TB.
"The new Indilinx Everest platform is a complete customizable solution that delivers superior storage performance, features, and capabilities designed to exceed the needs of the most demanding SSD applications," said Bumsoo Kim, President of Indilinx. "Combining a 6Gbps SATA Revision 3.0 host interface, a dual-core CPU, and support for the latest, most advanced NAND Flash memory technology available, Everest offers SSD manufacturers unparallel flexibility in optimizing their designs for both performance and cost."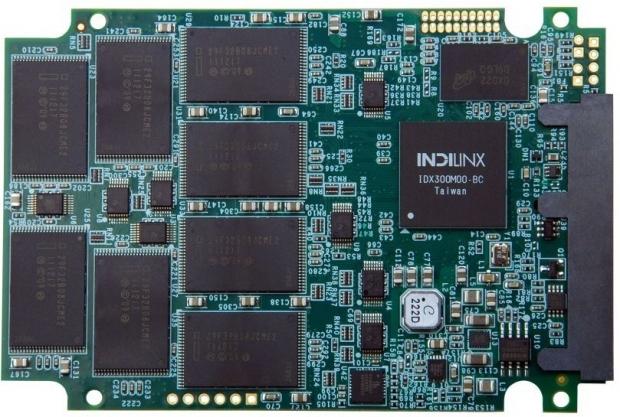 As a true next generation solution the new Indilinx Everest platform includes a complete spectrum of enhanced capabilities including:
Supports Next Generation Flash Technologies
The Everest Platform supports state-of-the-art, Multi-Level Cell (MLC) NAND components and next generation three bit per cell NAND Flash. The ability to leverage Triple-Level Cell (TLC) NAND Flash with proprietary Everest and Indilinx Ndurance Technology provides customers with significant cost reductions associated with moving to the new process.
Advanced Architecture Optimized for High Speed and Density
The Everest Platform features the only controller to support 200 mega transfers per second (MT/s) synchronous-mode flash, up over the 166 MT/s supported by other NAND Flash controllers. Everest supports 1TB capacities in a single controller SSD design with current generation Flash components. Its innovative eight channel design with up to 16-way interleaving for maximum performance, supports full data path and power fail protection to deliver best-in-class data integrity and reliability for enterprise applications.
Performance Optimization
Everest's leading-edge design delivers high sequential speeds up to 500MB/s and is optimized for small file writes at the 8K file size with next generation page mapping technology, which increases transactional performance optimized for 4K to 16K compressed files , by matching file sizes to the 8K page size typical in newer generation NAND Flash.
Enhanced Boot Time
Indilinx's new boot time reduction algorithms can be configured to decrease system boot time by up to 50% over existing SSD controller architectures for customers that require faster boot times and an instant-on experience in their applications. This provides the real world benefits users seek from their storage solutions and enables quicker access and greater responsiveness, allowing clients to take full advantage of solid state storage as a boot device.
Indilinx Everest Platform Complete Feature-Set:
• SATA Revision 3.0 - Supports 6Gbps, 3Gbps, and 1.5Gbps interface speeds
• Dual Core ARM CPU
• 1TB Maximum Capacity
• High Sequential Speeds
• High Transactional Performance - Optimized for 4K to 16K Compressed Files
• Up to 8 Channels of ONFI 2.0/Toggle 1.0 Flash at up to 200MT/s with up to 16-way Interleaving
• Advanced BCH ECC engine -over 70 bits per defined sector
• 400 MHz DDR3 DRAM Cache Interface with Support for up to 512MB
• Proprietary Ndurance Technology
• Enhanced Power Fail Protection
• Supports up to 1xnm Node NAND Flash with 1, 2, or 3 bits per cell
• Efficient NAND Flash Management - Dynamic and Static Wear-Leveling, and Background Garbage Collection
• Boot Time Reduction Optimizations - Collaborative Platform Development
• NCQ Support up to 32 Queue Depth
• End-to-End Data Protection
• TRIM Support
• Numerous Over-Provisioning Options
• Industry Standard SMART Reporting
The Indilinx Everest SSD platform is now available to OEMs for validation.
Last updated: Apr 7, 2020 at 12:05 pm CDT