Corsair, a worldwide designer and supplier of high-performance components to the PC gaming hardware market, today announced availability in limited quantities of a new 1.5V 8GB Dominator GT DDR3 memory kit with an aggressive timing specification.
The new 8GB dual-channel DDR3 kit is guaranteed to operate at 2133MHz at a memory voltage of 1.5V, and with a groundbreaking timing specification of CL9-11-9. With latency settings this low, the Dominator GT modules have the most aggressive timing specification of any 2x4GB 21333MHz 1.5V memory kit available today.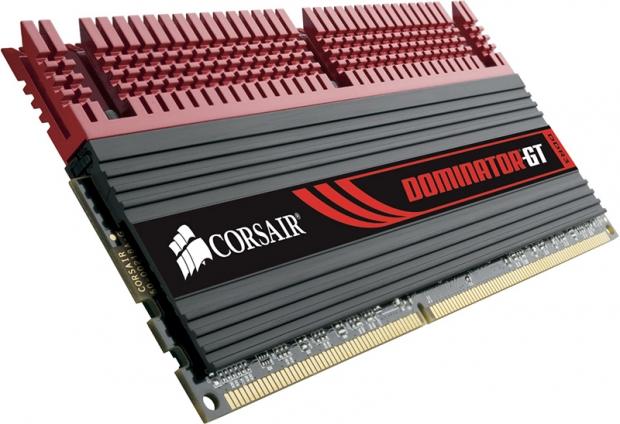 The new hand-assembled Dominator GT memory kit is the product of a multi-stage component screening process in which individual memory ICs are screened before assembly onto the PCBs, which then undergo additional rigorous testing to ensure reliable performance. Qualification is performed on Intel P67 and P55 motherboards, using the same rigorous test cycle applied to the rest of Corsair's memory product lines. As with all Corsair memory products, Dominator GT is backed by a limited lifetime warranty.
"The unprecedented timing specification on the 1.5V Dominator GT kit makes it ideal for overclocking," said Giovanni Sena, Director of Memory Products at Corsair. "Dominator GT memory is designed for enthusiasts who are obsessed with pushing their PC's performance to the limit, and this latest kit is a worthy addition to the family."
The 1.5V 8GB Dominator GT (CMT8GX3M2A2133C9) DDR3 memory kit comes complete with Corsair's patented DHX+ heatsinks and an AirFlow 2 GTL Cooling Fan for exceptional thermal performance. It may be purchased directly from Corsair.com for $499 USD. Limited quantities are available. For more information on this and other Corsair Dominator memory products, please visit the Corsair web site.
Last updated: Apr 7, 2020 at 12:05 pm CDT