TAIPEI, Taiwan, July 15, 2011 - Johnathan "Fatal1ty" Wendel knows that gamers have different CPU preferences, so he worked with ASRock engineers to develop a full featured motherboard for the new AMD 990FX chipset, supporting the AM3+ Socket and 8-Core CPUs. AMD is known for cost effective processing and superb over-clocking features, making it a favorite among gamers.
"I wanted a motherboard for AMD CPUs with the same successful features as our award winning, Intel based Fatal1ty P67 Professional" said Fatal1ty. "In addition, ASRock has come up with some new technologies that excited me, such as the XFast LAN™ which can reduce the latency of on-line games, and allows gamers to play at their highest level and Frag the competition!"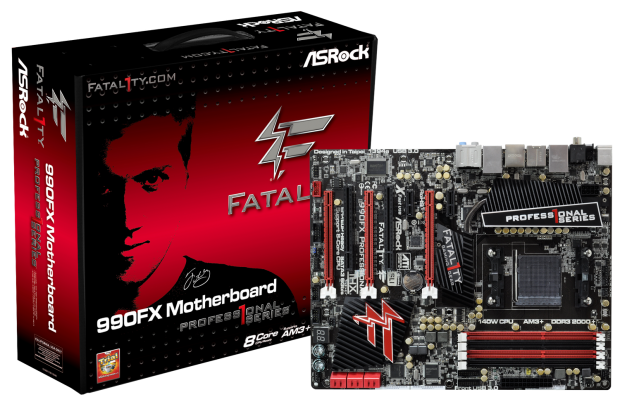 "One of the great aspects of the ASRock - Fatal1ty relationship, is that Johnathan is always pushing for new gaming features, giving our engineers suggestions that help them develop applications like XFast LAN™ , F-Stream and the Fatal1ty Mouse port." commented James Lee, VP of ASRock Sales and Marketing. "The 990FX is the fourth board in our line of Fatal1ty gaming motherboards, so we now offer a full range of products for the serious gamers of the world." said James Lee.
AMD Gaming Machine : Fatal1ty 990FX Professional
Gaming is a way of life for Fatal1ty, and a high-spec system is a must for playing the latest games. With the increasing popularity of on-line gaming, the 990FX was developed with that in mind. The new AMD 990FX chipset supporting the AM3+ Socket and 8-Core CPUs makes a perfect gaming platform for the cost conscious gamer who wants advanced features, without an advanced price.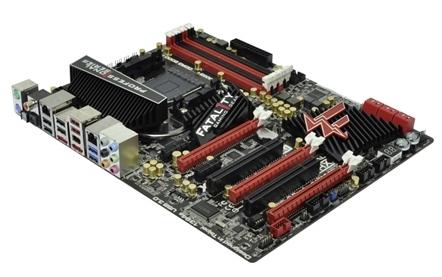 This is a premium motherboard, coming with top-end specifications. A Digital PWM design improves the CPU power solution and delivers Vcore voltage to the processor more efficiently. Combined with V12+2 phase power, it allows for the most stable overclocking possible. To provide the ultimate control in games, gamers need look no further than this customizable function: the Fatal1ty Mouse Port. With a wide range of 125 Hz to 1000 Hz for the mouse polling rate adjustment, gamers obtain more precise control of their mouse.
The 3 graphic card slots support AMD Quad CrossFireXTM, 3-Way CrossFireXTM and CrossFireXTM, as well as NVIDIA® Quad SLITM and SLITM. This set-up allows the Fatal1ty 990FX Professional motherboard to support virtually any kind of graphic card set-up, providing gamers with the best possible graphics configurations.
For more product information, please visit : http://www.asrock.com/mb/overview.asp?Model=Fatal1ty%20990FX%20Professional
About ASRock
ASRock Inc. is established in 2002, specialized in the field of motherboards. ASRock strives to build up its own brand. With the 3C design concept, "Creativity, Consideration, Cost-effectiveness", the company explores the limit of motherboards manufacturing while paying attention on the eco issue at the same time, developing products with the consideration of eco-friendly concept.
ASRock has been growing fast and become world third largest motherboard brand with headquarter in Taipei, Taiwan and branches in Europe and the USA. The young and vibrant company targets from mainstream to enthusiast MB segments for different kinds of users, owning reputation around the world market with its reliability and proficiency. Further information, please visit http://www.asrock.com/.
About Fatal1ty
Johnathan "Fatal1ty" Wendel became the world's first full time professional video gamer in 1999 and since then has dominated competitions all over the world, winning an unprecedented 12 world titles in 5 different games. His dedication to the concept of competitive video gaming led him to create a range of gaming gear that carries the Fatal1ty Brand.
In honor of his contributions to video gaming, Johnathan was awarded the first ever Lifetime Achievement Award in the four-year history of the eSports-Award for "showing exceptional sportsmanship, taking part in shaping eSports into what it is today and for being the prime representative of this young sport. He has become the figurehead for eSports worldwide.
Last updated: Apr 7, 2020 at 12:05 pm CDT