Apacer, one of the world's leading brands of memory modules, today announced an expansion of its ARES overclocking memory series with high capacity and clock rate: DDR3-2133 8GB (4GBx2) dual channel memory kit, which is engineered for the latest Intel P67 and Z68 Sandy Bridge platforms. With a combination of high clock rate, huge capacity and low latency of CL9, ARES series is a perfect solution for extreme PC enthusiasts and gamers who want to optimize performance on the new platforms.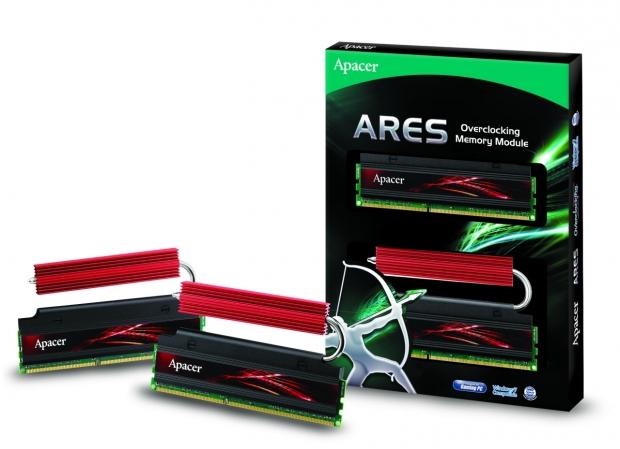 The newly-unveiled ARES DDR3-2133 8GB dual channel memory kit provides the high speed and capacity on the Intel P67 and Z68 Sandy Bridge platforms and is backwards compatible with existing the P55 platform. It runs at CL9-11-9-27 with 1.65 voltage, using advanced process 256Mb x 8 chips, which are screened and tested with the advanced test fixture and programs under diversified parameters of voltage and time sequences.
ARES DDR3 series uses a copper heat pipe cooler containing heat transfer liquid that turns into vapor by absorbing the heat of thermal-conductive copper heat pipe and transfers the vapor onto the large red heat dissipation fin through capillarity and phase transition technology. This efficient thermal design helps deliver optimum overclocking memory performances while maintaining cool temperatures.
Apacer has been consistently working with partners to develop faster memory for the latest platforms, and all of Apacer DRAM module is backed up by a lifetime warranty.

About Apacer
Apacer Technology Inc. offers a wide range of memory modules, industrial SSD, and digital consumer products. Together with its broad R&D, design, manufacturing, and marketing strengths, it has become a leading global manufacturer in the industry. Since its establishment, Apacer has always followed its promise, "Access the best," to produce reliable, innovative products and services. Apacer supplies customers with high performance, reliable, high value memory modules and flash memory via a marketing network that stretches across worldwide distributors, product manufacturing facilities, and retail consumers. Apacer provides innovative, state-of-the-art digital storage products to store, record, and share the digital information crucial to their work and essential to their daily lives.
Last updated: Apr 7, 2020 at 12:05 pm CDT