Taipei, Taiwan, July 14, 2011 - In response to consumer demands for high capacity, high performance and high efficiency external hard drives, leading memory storage brand SP/Silicon Power today announces the launch of the latest addition to its 2.5 inch USB 3.0 portable hard drive series. Following on from the 320GB, 500GB, 640GB and 750GB models, this version features an ultra-high capacity 1TB memory, completing the set of SP portable hard drives with USB 3.0 high speed transfer interface. Each model in the series carries an exclusive SP Widget toolkit, creating perfect consumer-friendly solutions of data transmission and storage.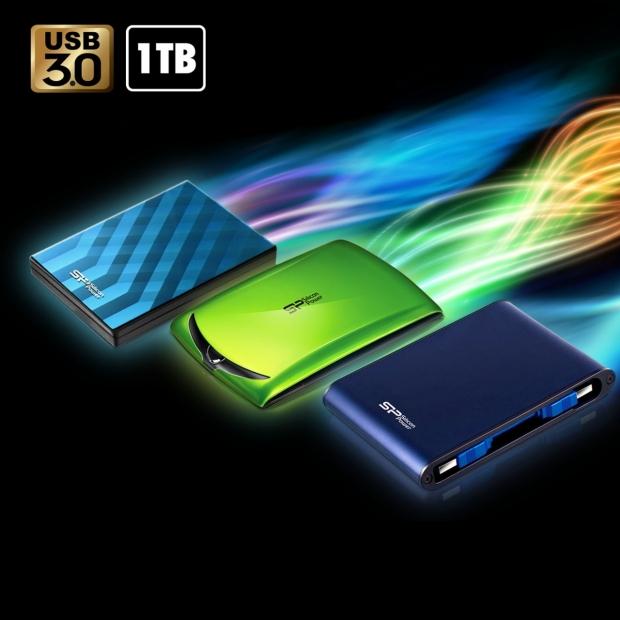 With its super-high capacity memory, the new SP/Silicon Power 1TB portable hard drive can store up to 200 DVD movies at a time. Even in cases where files are massive, the high speed transfer rates and enormous storage capacity can satisfy requirements of the most demanding computer gamer! In addition, all products are fitted with an LED indicator light, making it simple to identify its power on or data transfer status. Power save mode is also available, keeping with the green principles.
With the wide range portfolio of the company's products, unique designs can be found whether you're after high-efficiency, high quality or value for money features. SP Armor series outperform in shock-resistance and high read/write efficiency. The Armor A80 as customers' number one choice even achieves U.S. military drop and waterproof standards.
SP Stream series on the other hand, emphasize on its race car shape and high speed of transmission. Both Stream S10 and S20 models allow users to access photo files in a matter of seconds. The complimentary elegant protective case also makes the product a stylish accessory.
The Diamond series continues the luxury theme with its classic checkered design; the Diamond D10 features the sleek and compact lines and outstanding efficiency, offering customers the trendy option!
All SP portable hard drives are fitted with an exclusive SP Widget, which features seven major back-up and security tools. It is available as a free download, along with a 60 day free trial of Norton AntiVirus 2011. These value-added services are in place to maximize the enjoyment and convenience of the consumer, increasing the usability of the product even further. For more information, please see the SP/Silicon Power website: www.silicon-power.com
About Silicon Power
Silicon Power Computer & Communications Inc., founded in 2003 by a group of enthusiastic specialists in International Business, Global Marketing, and Technical Engineering of flash data storage industry. Well dedicated in brand image and product quality, Silicon Power has been recognized and well accepted by millions of end-users in more than 100 countries, becomes the world's leading manufacturer of flash memory cards, USB flash drives, card readers, DRAM modules, solid state disks, and portable hard drives in less than a decade. Headquartered in Taipei, we continuously established various branches throughout the world including Netherlands, Japan, Russia, Mainland China and other emerging market to reach the worldwide market.
Last updated: Aug 9, 2020 at 12:18 am CDT