Plug & Play RAID 0/1 bus-powered FireWire 800/400, USB 2.0, eSATA equipped high performance portable solutions starting at $179.99 offer "live activity" data backup/storage and performance RAID on the go.
July 13, 2011, Woodstock, IL -- Newer Technology, Inc. (NewerTech®) http://www.newertech.com, a leading developer of Macintosh®, PC, iPod®, iPhone®, and iPad™ performance upgrades and accessories, announced today that it has added a new model - featuring dual 2.5" 1.0TB SATA drives for up to 2.0TB of storage - to its bus powered (no AC adapter needed) ultra portable Guardian MAXimus® mini storage solution line. The new $299.99 MSRP model provides 1.0TB hardware RAID-1 redundancy for a MAXProtect "mirrored" copy of data or a 2.0TB RAID-0 mode for MAXPerform speed and a "Quad Interface" of FireWire 800/400, USB 2.0, & eSATA connections to offer Mac and PC users Plug and Play data transfer speeds up to 300MB/s.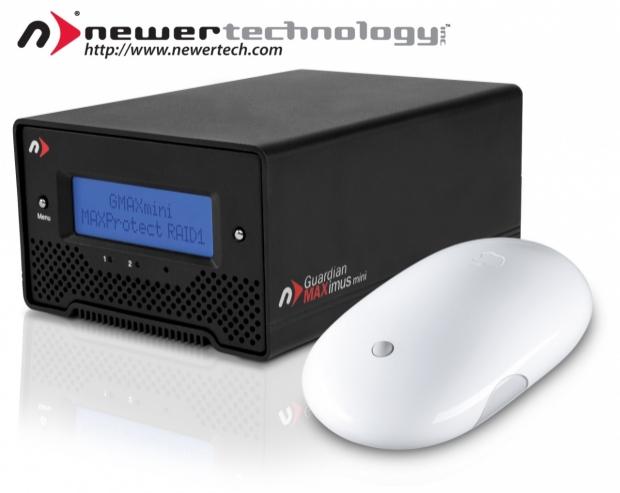 The NewerTech Guardian MAXimus mini, a Visionary Product Awards finalist at CES in the Storage Visions 2011 Awards Program, is available immediately in seven hard drive based models with up to 2.0TB of capacity and three Solid State Drive (SSD) models with up to 960GB of storage capacity starting at $179.99 MSRP from NewerTech's exclusive distributor, Other World Computing (OWC®), as well as through the retail channel. For more information on this new storage solution, as well as reseller inquiries, visit: http://www.newertech.com/products/gmaxmini.php. For more information on NewerTech's complete line of accessories and upgrades for Macs, PCs, and iDevices, visit: http://www.newertech.com/products.
"Live Activity" Backup for Maximum Data Protection
Guardian MAXimus mini comes factory set as a RAID-1 Plug And Play "live activity" data redundant/backup solution ideal for "in the field" storage and protection of financial records, medical files, business projects, wedding photography sessions, nearly any critical data capture scenario that consumer and professional users simply cannot risk losing. Always guarding against data loss and costly system downtime, the Guardian MAXimus mini MAXProtect mode writes the same information in real-time to two separate 2.5" SATA drives, each offering up to 1.0TB of storage capacity, for a "mirrored" copy.
MAXPerform For High Speed Data Transfers
For Mac and PC users seeking ultimate performance and capacity over redundancy, Guardian MAXimus mini can be easily switched via the front panel LCM screen/control interface menu to the RAID-0 MAXPerform mode for up to 2.0TB of high speed storage.
MAXimum Portability & Space Savings
The Guardian MAXimus mini's bus powered, fanless, and exceptionally compact design makes it ultra portable for 'mobile office' needs. Weighing in at less than 1/4th the weight and size of similar 3.5" based desktop RAID solutions, it provides maximum data protection with minimal bulk and use of space on a desktop or when carried in a gear bag.
MAXimum Compatibility
With a "Quad Interface" of two FireWire 800, one FireWire 400, one USB 2.0, and one eSATA ports and all connecting cables included, Guardian MAXimus mini doesn't require any complicated set-up and is ready for Plug and Play use with legacy Macs, the latest Mac models, as well as PCs. It provides data transfer speeds up to 300MB/s and can be moved between different systems utilizing its supported interfaces with complete interoperability for maximum data backup performance and flexibility.
"We're quite pleased to offer Mac and PC users our highest capacity, quad interface, and truly portable RAID storage solution at an extremely attractive cost," said Grant Dahlke, Brand Manager, Newer Technology, Inc. "With no AC adapter needed and a super lightweight, compact footprint, the Guardian MAXimus mini is ideal for creative professionals that need a dependable and flexible backup drive for their 'mobile office' needs."
Guardian MAXimus mini Features:
• Up to 2.0TB of storage capacity via two paired 2.5" SATA drives
• Up to 32MB of drive cache (16MB per drive)
• Selectable MAXProtect RAID-1 or MAXPerform RAID-0 modes
• Two FireWire 800 9 pin ports
• One USB 2.0 "B" port - backwards compatible with USB 1.1
• One eSATA port
• Bus Powered (external US/International UL listed power adapter included for use if needed)
• High quality interface connecting cables
• Front panel LCM display/control interface for checking/setting system status
• Brushed aluminum, impact resistant, heat dissipating, super quiet fanless enclosure
• Ultra lightweight (as low as 1.24lbs w/SSDs) and compact design
• 3 year solution warranty with One Year Level One Data Recovery Service
• Includes $100 retail value utility software bundle consisting of ProSoft Engineering® Data Backup 3, NovaStor NovaBACKUP®, Intech® SpeedTools Utilities™, and Carbon Copy Cloner.
About Newer Technology, Inc.
Since 1984, Newer Technology, Inc. (NewerTech) has been recognized as the leading developer of performance upgrades and accessories for Macintosh and PC computers, iPods, iPhones, and iPads. NewerTech is headquartered in Woodstock, Illinois. Dealer inquiries are welcome by calling 815-308-7001 or by emailing sales@newertech.com.
Last updated: Apr 7, 2020 at 12:05 pm CDT