TORRANCE, Calif. -July 12, 2011-TRENDnet, a best-in-class wired and wireless networking hardware brand, today announces the availability of the first to market 450Mbps Concurrent Dual Band Wireless N Router, model TEW-692GR.
This is the first router to offer full 450 Mbps speeds on both the 2.4 GHz and 5 GHz wireless bands concurrently-for a total theoretical throughput of 900 Mbps. A popular Dual Band network configuration is to assign the low interference 5 GHz band to media center devices and the more popular 2.4 GHz band to computers and peripherals that are typically only able to connect using the 2.4 GHz frequency.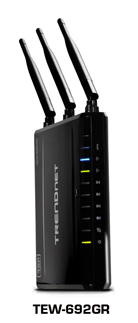 Gigabit Ethernet ports maintain high performance wired connections. Wi-Fi Protected Setup (WPS) integrates other WPS supported wireless adapters at the touch of a button. Gone are the days of entering complicated encryption codes; simply press the WPS button on the TEW-692GR, and then press the WPS button on a compatible wireless adapter-the devices automatically exchange information and connect over a secure encrypted wireless signal. WMM technology further prioritizes video and audio packets.
"We are confident that this first-to-market 450Mbps router will outperform any router available today," stated Zak Wood, Director of Global Marketing for TRENDnet. "TRENDnet remains the only brand to offer 450Mbps adapters needed to connect to routers at 450Mbps and the only brand to offer products that support a complete 450Mbps wireless ecosystem."
The 450Mbps Concurrent Dual Band Wireless N Router, model TEW-692GR, comes with a three year limited warranty and is currently shipping to all online and retail partners. The MSRP for the TEW-692GR is U.S. $249.99.
About TRENDnet
TRENDnetis an award winning global brand, dedicated to providing a completeline of high quality yet affordable networking solutions for small tomid-sized business and home users alike. Founded in 1990, TRENDnetis headquartered in Torrance, California, and maintains branch officesin Europe, Central America, South America and Asia. TRENDnet productsare sold in over 125 countries. The TRENDnet brand is consistentlyrecognized for high quality, exceptional performance and unparalleledsupport. For more information visit www.trendnet.com or call +1 (310) 961-5500.
Last updated: Apr 7, 2020 at 12:05 pm CDT