A Capacity breakthrough, Power Quotient International (PQI), a global top 10 flash memory brand, unveiled its 2.5" portable hard disk drive H567L/V at the beginning of this year. The launch caused a sensation in the market, and has generated much favorable attention.
In mid-2011, in response to high consumer demand, PQI has optimized the capacity specifications of its disk drives, H567L and H567V, which support USB2.0 and USB3.0 transfer interfaces respectively, by raising their capacity to 1TB. The new storage option satisfies the need of users for higher storage capacity for unhindered storage of images, high resolution videos and confidential documents.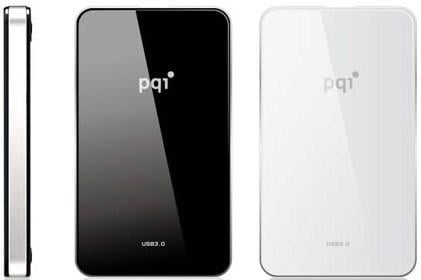 PQI H567L/V, with its high 1TB capacity, is able to store around 287,000 images, 435 hours of video and 250,000 songs which resolves capacity issues. Coupled with its exterior exquisite engraving, it creates an elegant mirror-like texture on both the front and back. This light, thin and simple design is a great contrast from the bulky portable hard disks in the market. It is worth mentioning that there are four protruding points on the back of the device, which are to protect against scratches, prevent slippage and reduce noise. Such features can prevent annoying scratches due to user's carelessness, as well as reduce the slight noise generated from movement while the disk is operating.
Increasing portable hard disk capacity, high data transfer rate and data security has become even more critical. PQI has bundled the product with its proprietary software, UrFortress, to provide users with full featured information encryption capability which includes security protection for confidential documents and privacy protection for personal pictures and videos. This software allows users to efficiently carry out data backup and encryption of documents giving breakthrough storage capacity and higher data transfer rate! PQI continues to pursue higher technology in order to improve user convenience.
Specifications:
• Weight: 162g
• Dimensions: 131(L)x77(W)x16(H)mm
• Interface: USB 2.0/3.0
• Storage Capacity: 320GB /500GB /640GB /750GB/ 1TB
• Operating System: HDD OS System - Windows 2000/ XP/ Vista/ 7/ Mac 10.X or above
• S/W OS System - Windows 2000/ XP/ Vista/ 7
• Warranty: 3 years warranty
• Bundled Software:
- TurboHDD USB
- Ur Fortress
- Ur-Smart
Last updated: Apr 7, 2020 at 12:05 pm CDT