Logitech Wireless Mouse M235 Features Advanced Optical Tracking, Sleek and Comfortable Design, and 2.4 GHz Wireless Connectivity
Sydney, Australia.-July 12th, 2011- Today, Logitech announces the imminent Australian availability of the Logitech® Wireless Mouse M235, a sleek mouse that delivers precise clicking and pointing - powered by Logitech® Advanced Optical Tracking - making it easier than ever to surf the Web and navigate on a laptop from anywhere.
"We've learned a lot about people's preferences while building more than a billion mice, and the Logitech Wireless Mouse M235 benefits from this expertise," said George Saad, Director at Logitech Australia. "Features such as the plug-and-forget nano-receiver and advanced 2.4 GHz wireless, along with the mouse's sleek, contoured design, make the M235 a great, reliable choice."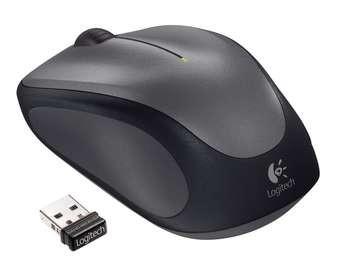 The Logitech Wireless Mouse M235 remains comfortable in any location.. This hand-friendly mouse features a compact, contoured design with soft rubber grips and a smooth scroll wheel, enabling effortless scrolling through documents.
Built with Logitech Advanced Optical Tracking, the Logitech Wireless Mouse M235 negates the need for tricky finger movements on a laptop touchpad, and allows precise pointing, dragging and clicking while surfing websites and sharing text and links.
Logitech's Advanced 2.4 GHz wireless connectivity delivers a powerful, reliable connection with virtually no delays or dropouts-all through a tiny plug-and-forget nano-receiver that is small enough to stay in a laptop constantly.
The mouse can go a full year without battery hassles, and an On/Off switch and smart sleep mode help extend battery life. A helpful indicator light helps to eliminate low power surprises.
Pricing and Availability
The Logitech Wireless Mouse M235 is expected to be available in Australia mid July for a suggested retail price of $39.95. It's expected to be available from the following retailers: Big W, Dick Smith, The Good Guys, Harvey Norman, JB Hi-Fi, Logitechshop.com.au, Myer and Officeworks.
To find out more about the Logitech Wireless Mouse M235 please visit http://www.logitech.com/en-au/home
About Logitech
Logitech is a world leader in products that connect people to the digital experiences they care about. Spanning multiple computing, communication and entertainment platforms, Logitech's combined hardware and software enable or enhance digital navigation, music and video entertainment, gaming, social networking, audio and video communication over the Internet, video security and home-entertainment control. Founded in 1981, Logitech International is a Swiss public company listed on the SIX Swiss Exchange (LOGN) and on the Nasdaq Global Select Market (LOGI).
Last updated: Apr 7, 2020 at 12:05 pm CDT