Hollywood Heavyweights, Tech Experts and Social Media Insiders Collaborate on Social Film
NEWS HIGHLIGHTS
- "Inside," a blockbuster-caliber production that will bridge the gap between social media and film, invites viewers to have a voice and participate in the storyline using their social networks.
- The film brings together top talent in entertainment, technology and social media, starring actress Emmy Rossum, directed by D.J. Caruso, award-- winning cinematographer Mauro Fiore.
- Viewers will have the opportunity to become part of the film through YouTube*, Facebook* and Twitter,*
- Casting call will run July 11-20 to identify a new character to be included in the film.
Santa Clara and Irvine, Calif., July 11, 2011 - Intel Corporation and Toshiba America Information Systems Inc., today announced a creative collaboration and campaign to deliver a new social film project titled "Inside." As part of the film experience an online casting call has also been issued at www.TheInsideExperience.com.
Starring Emmy Rossum ("Shameless," "Phantom of the Opera,"), "Inside" is a blockbuster-class experiment in social entertainment, brought to life by leading minds in Hollywood, technology and social media. The film aims to bring a new genre of interactive, social entertainment and is directed by D.J Caruso ("Disturbia," "I Am Number Four," "Eagle Eye") and Oscar-winning cinematographer Mauro Fiore ("Avatar," "Training Day").
"'Inside' is unique because it allows me as the director to direct not just the actors but the audience as well," Caruso said. "Social film is still in an experimental phase and collaborations like this one will help bring new concepts, opportunities and ideas to the world of entertainment. We had to approach the film differently because there are blanks that need to be filled in by the social media audience, but that is what makes it an exciting new experience for the viewer; the opportunity to participate in the film itself."
In the film, Rossum plays the role of Christina, a 20-something woman trapped in a room with only a 2nd Generation Intel® Core™ i7 processor-powered Toshiba Satellite® P775 series laptop and an untraceable Internet connection. Unable to determine where she is being held or what her fate might be, Christina uses the laptop to mobilize her social network, reaching out to friends, family and anyone else who can help her figure out where she's being held and how to escape.
Unlike most static productions, "Inside" engages the audience by enlisting them to be a part of the film through social media. Viewers are encouraged to connect with Christina, tweet clues and post advice to her Facebook wall. The film will air in short episodesstarting on July 25. During this time, viewers will be invited to activate their social channels and help decode Christina's dilemma by posting tips, insights, ideas and clues. The editing team, led by Emmy-winning editor Josh Bodnar, will incorporate posts that best fit the storyline into the episodes.
Additionally, one viewer will have a chance to be cast in a role through a YouTube online casting call that opens today and runs through July 20. The winning video submission will be incorporated into the movie and the winner will be included in the credits of the film.
"As the 'Sponsors of Tomorrow' we are excited to expand the entertainment computing experience of today," said Johan Jervoe, VP Creative Services and Digital Marketing, Intel Corporation. "By bringing the worlds of social media and entertainment together, we will give the viewer the ability to have an active voice and play a participating role, something that has never been done before with traditional film. It's exciting for viewers/participants to have the opportunity of being cast alongside talent like Emmy Rossum, D.J. Caruso and Mauro Fiore."
"With 'Inside,' the goal was to provide our audience with a unique, engaging experience," said Ron Smith, vice president of marketing, Toshiba America Information Systems Inc., Digital Products Division. "We wanted to connect with a younger consumer audience through the social media channels and technologies they use most. Our hope is that viewers are enticed by the opportunities 'Inside' creates, giving them the possibility of seeing their name, comments and social identity included in a film that has the potential to alter the entertainment landscape."
Follow "Inside" at www.theinsideexperience.com, on Facebook at facebook.com/theinsideexperience and on Twitter via @theinsideexp or #theinsideexperience. For more information on the Toshiba Satellite P775 laptop used in the film, please visit http://theinsideexperience.com/product .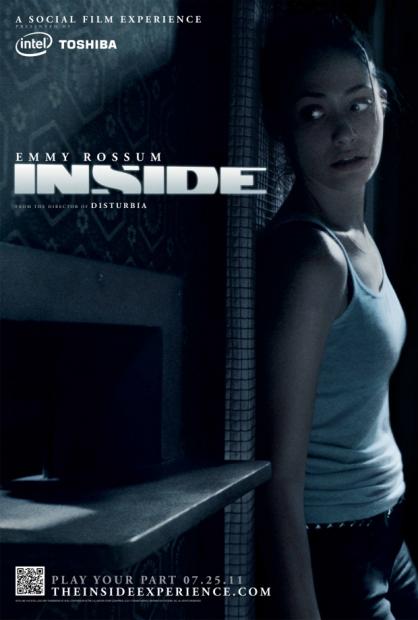 Film poster for 'Inside' a blockbuster-caliber production that will bridge the gap between social media and film. Developed by Intel and Toshiba, the film allows viewers to participate in the storyline using their social networks. Visit http://www.theinsideexperience.com for more information.
About Intel
Intel (NASDAQ: INTC) is a world leader in computing innovation. The company designs and builds the essential technologies that serve as the foundation for the world's computing devices. Additional information about Intel is available at newsroom.intel.com and blogs.intel.com.
About Toshiba America Information Systems, Inc. (TAIS)
Headquartered in Irvine, Calif., TAIS is comprised of four business units: Digital Products Division, Imaging Systems Division, Storage Device Division, and Telecommunication Systems Division. Together, these divisions provide digital products, services and solutions, including industry-leading portable computers; televisions, TV/DVD Combination products, Blu-ray Disc and DVD products, and portable devices; imaging products for the security, medical and manufacturing markets; storage products for automotive, computer and consumer electronics applications; and IP business telephone systems with unified communications, collaboration and mobility applications. TAIS provides sales, marketing and services for its wide range of products in the United States and Latin America. TAIS is an independent operating company owned by Toshiba America, Inc., a subsidiary of Toshiba Corporation.
Last updated: Apr 7, 2020 at 12:05 pm CDT