HighPoint Technologies, Inc., the industry's price-leading manufacturer of host-to-target storage controllers, is now shipping the RocketRAID 2782 32-port PCI-Express Gen 2 RAID HBA. With an MSRP of $849 US, the RocketRAID 2782 reduces costs by as much as 50% over comparable RAID HBA's.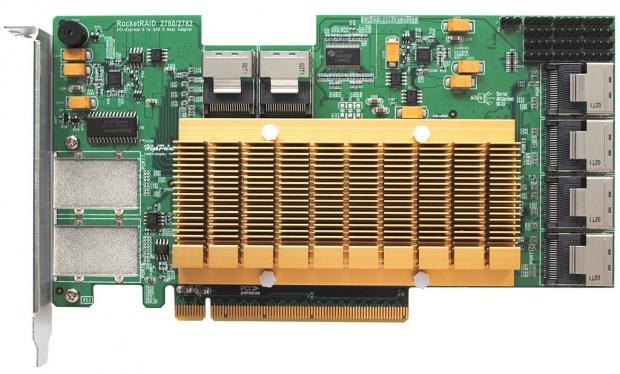 No other manufacturer delivers high-density Host RAID storage solutions with 32-dedicated SAS 6Gb/s ports. Comparable HBA's only offer up to 24 ports, and require sacrificing one or more internal Mini-SAS ports in order to utilize the external connectors. The RR2782's defines no-compromise, high-connectivity - all 32 ports are available at all times, in any combination.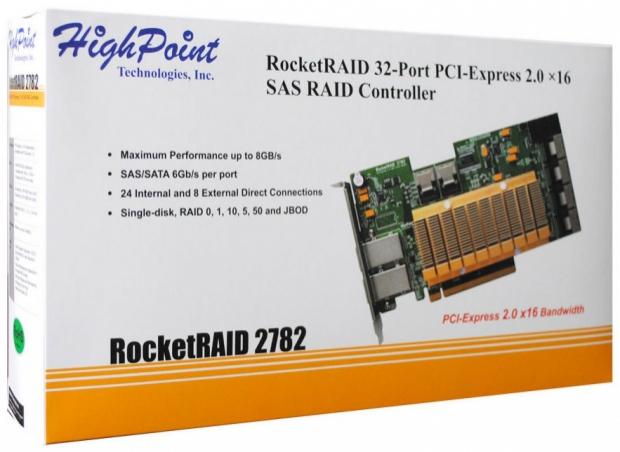 RocketRAID 2782 - 32-port PCI-Express 2.0 x16, SAS 6Gb/s RAID
The RocketRAID 2782 represents the industry's most cost-effective, high-density RAID host-side storage solution. Featuring 24 internal and 8 external dedicated 6Gb/s SAS ports, the RocketRAID 2782 provides maximum device connectivity for minimal investment and delivers transfer rates up to 8GB/s; ideal for a wide-range of high-performance and high-density storage applications.
Robust, High-Connectivity Design
The Rocket RAID 2782's six internal (SFF-8087) and two external (SFF-8088) Mini-SAS port connectors, provide professional system integrators with the flexibility needed to meet client requirements for single or multiple chassis environments. The RocketRAID 2782 directly supports up to 24 SAS/SATA drives for host-side configurations, while providing 8 external ports for expanding to one or more target storage devices.
RocketRAID 2700 Series PCI-E Gen 2 SAS 6Gb/s RAID HBAs
• RR2782 (24-port internal/8port external): $849.00
• RR2760A (24-port internal): $649.00
• RR2740 (16-port internal): $449.00
• RR2744 (16-port external): $499.00
• RR2720SGL (8-port internal): $137.00
• RR2720 (8-port internal): $229.00
• RR2721 (4 int. / 4 ext. ports): $249.00
• RR2722 (8-port external): $299.00
• RR2711 (4-port external): $179.00
• RR2710 (4-port internal): $179.00
Availability and Pricing
HighPoint's RocketRAID 2782 SAS 6GB/s HBA is available immediately, from a world-wide network of Distribution and Reseller channels. Price: $849.00.
Last updated: Apr 7, 2020 at 12:05 pm CDT