MSI has rolled out the X460 and X460DX, the newest additions to its X-Slim Series of notebook computers. The 14-inch X460, for example, is less than 1" thick and tips the scales as just 1.98 kg-currently the lightest Intel Core i7 quad core processor packing laptop out there. Also worthy of note, a second internal hard drive is optional with the X460 and X460DX to greatly enlarge storage capacity and if you go with the optional SSD hard drive, you'll kick up system performance. This pair of laptops packs plenty of punch.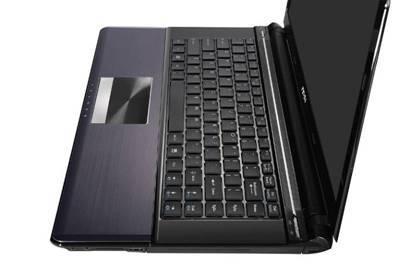 Eric Kuo, associate vice president for global sales, MSI Notebook, notes that the X460 also comes with new generation Intel Wireless Display to transmit 1080p HD programs to large screen full HDTVs, so you can enjoy high resolution pictures and 5.1 channel wrap around sound without the hassle of wires.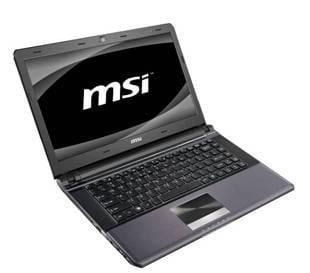 Powerful, portable
Intel 2nd generation Core i CPU: What makes the X460 and X460DX laptop computers stand out from the crowd is the fact that the X460 can pack Intel's second generation Core i7-2630QM or Core i5-2410M processors and Intel HD Graphics 3000 display chip, while the X460DX comes with Intel Core i5-2410M processor and nVidia GeForce GT540M discrete graphics card. It also supports the latest DirectX 11 for powerful graphics performance.
Dual graphics card switching: The X460DX also supports MSI GPU Boost technology, so when it's processing high load programs, the system automatically switches over to discrete graphics card mode to provide powerful graphics processing, but when performing general word processing tasks or surfing the Internet, it automatically cuts to the power-sipping integrated graphics chip mode, striking the ideal balance between performance and battery life. The X460DX comes with a graphics card switch indicator light next to the power button to keep you better informed about what's happening under the hood.
Extended battery life: The X460 and X460DX come with long life batteries as well as a Turbo Battery+ hotkey to shut off idle devices, giving them up to eight hours of power. *Actual battery time will vary with differences in computer use and settings.
Fast transfer speeds
Intel Wireless Display: The X460 comes with Intel's Wireless Display to transmit 1080p HD programs to large screen full HDTVs, so you can enjoy high resolution films and 5.1 channel wrap around sound without the hassle of wires.
HDMI, USB 3.0, and Bluetooth 3.0: The MSI X460 and X460DX come with an HDMI slot to connect your laptop to external LCD televisions, so you can share superior high resolution pictures. They also come with the latest USB 3.0, which reaches transfer speeds of 4.8Gbps-10 times faster than USB 2.0, and Bluetooth 3.0 with transfer speeds of 24Mbps-3 times faster than Bluetooth 2.1.
Chic, user-friendly design
Metal alloy chassis, feather pattern lines: Metal alloy chassis, feather pattern lines: The X460 and X460DX are the epitome of MSI's superior craftsmanship. The X460 weighs in at only 1.98kg and is less than one inch thick. MSI put a great deal of work into the details, inside and out, gracing these two machines with an aerodynamic feather pattern and building the cover and palm rest areas out of aluminum alloy. The brush finish exudes style without being ostentatious. The silver trim above the keyboard adds a touch of class as it connects the S-Bar and Turbo Battery+ buttons and sets off the unique chiclet keyboard.
Wider angle: The X460 and X460DX can open up to 170 degrees, so whether you're sitting on the sofa or at your desk, you can spread your NB to the angle that best meets your current needs. Another user-friendly detail is the fact that with the cover closed, the edge of the laptop forms a nice round grip that fits comfortably into a cupped hand.
S-Bar: To find functions you need, simply depress the S-Bar hotkey. All function controls, including webcam, projector, wireless, Bluetooth, volume, screen brightness, and standby status, will pop up on the screen, so you don't have to waste time searching for them.
Superior multimedia
The True-to-life wrap around sound: To enhance sound performance on the X460 and X460DX, MSI worked closely with sound design specialists at Creative to incorporate THX TruStudio Pro wrap around sound to reproduce crystal-clear sound regardless of source.
True color image restore: Depressing the Cinema Pro hotkey switches the X460 and X460DX to video mode for clearer, more true-to-life pictures and richer colors that will keep you riveted to the screen. In addition, the X460 and X460DX come equipped with a high resolution 720p webcam for clear, hiccup-free pictures when conferencing with friend and family.
Smoother visuals: These two laptops support 30 FPS, meaning that multimedia can be played at up to 30 frames per second-much faster than the 24 FPS used for HD films in movie theaters today. Picture technology performance of this caliber gives the X460 and X460DX smoother pictures reminiscent of the big screen.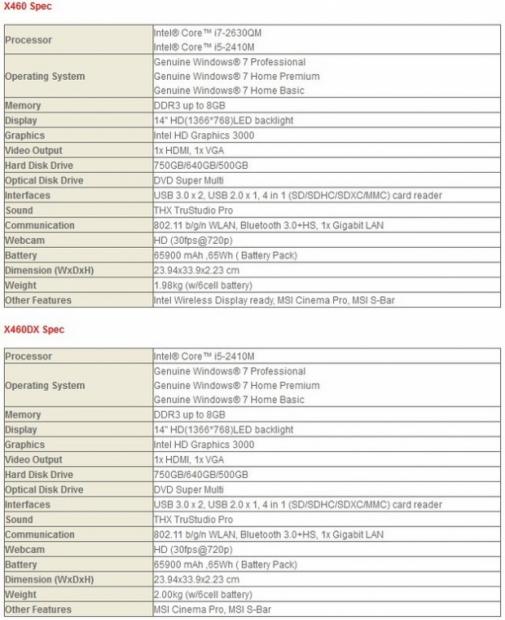 Last updated: Apr 7, 2020 at 12:05 pm CDT