Special edition of award-winning gaming chassis ready for shipments July 20th
(BitFenix Design Lab, July 7, 2011) - Since its introduction this past March, Shinobi has become one of the most celebrated BitFenix chassis ever made, garnering over 20 awards and positive reviews. Today, BitFenix is pleased to announce that Shinobi Window White, a special-edition white and blue version of the award-winning original, will hit North American shores on July 20th, with pre-orders beginning on July 7th.
"We were absolutely floored with the response we've gotten with Shinobi - a case that many are touting as the price/performance champ," says BitFenix Product Manager David Jarlestedt. "Many users were writing in asking for a white version of Shinobi for sale in North America, and I'm pleased that we can deliver it to them with Shinobi Window White."
With its uniquely-crafted side panel window and blue mesh ventilation strips, Shinobi Window White exudes a clean, no-nonsense design while maintaining a modern sense of style. Enveloping the top and front covers is white BitFenix SofTouch™ Surface Treatment, giving it a luxurious matte finish and soft feel while resisting fingerprints and stains.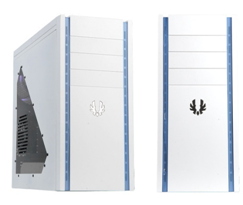 Inside, Shinobi Window White can accommodate a wide variety of hardware - long graphics cards are not a problem, and up to three 5.25" optical drives or eight 3.5" hard drives can be installed for maximum expansion possibilities. With the included 5.25" drive bay adapter, users can also install a 2.5" SSD drive. To keep things cool when battle heats up, Shinobi Window White can also be outfitted with a bevy of fans - up to seven 120mm fans can be installed, and optionally two of them can be upgraded to 140mm fans. Four high-speed USB 2.0 ports and audio jacks come standard, allowing gamers to effortlessly connect their gaming peripherals.
To get the gamer into battle as quickly as possible, Shinobi Window White is equipped with a slew of DIY friendly features. Easy-to-use tool-free drive locking mechanisms make drive installation a breeze, and a large cutout on the motherboard tray enables quicker changing of CPU coolers should the need arise. Finally, removable filtered fan intakes means quick cleanup, shortening the time it takes to charge back into the fray.
Of course, Shinobi Window White is also built with the same quality and attention to detail of all BitFenix gaming products. From the brushed gunmetal BitFenix logo, to the luxurious coated interior, users can experience the BitFenix difference both inside and out.
BitFenix Shinobi Window White will be available for pre-order at the following select retailers beginning July 7th:
BitFenix Store http://bit.ly/kEVdAM
FrozenCPU http://bit.ly/rrrZPf
Xoxide http://bit.ly/noCRiK
AVADirect http://bit.ly/nsEPGH
BitFenix Shinobi Window White will retail for $69 USD and be ready for local delivery by July 20th.
For more information on Shinobi, please visit http://www.bitfenix.com.
About BitFenix
BitFenix is the result of the collaboration of several veterans in both the technology and gaming industries. From the same minds behind some of technology's most venerable products, BitFenix creates hardware and peripherals that grant the user the utmost control, strength, and performance to complete their computing tasks. Combining a deep understanding of gaming and other high-demand computing applications with superior engineering and design know-how, the BitFenix Team is dedicated to creating the go-to computing products and peripherals for those who refuse to quit. For more information, check out http://www.bitfenix.com.
Last updated: Apr 7, 2020 at 12:05 pm CDT