SAN JOSE, CA (July 7, 2011) -- Addonics Technologies (http://www.addonics.com) today announced the Addonics 1:11 HDD (Hard Disk Drive) Duplicator, which can copy up to 11 target drives from a single source or duplicate any SATA or IDE HDD drive in a 3.5" or 2.5" form factor. The HDD duplicator is an ideal solution for production or data distribution applications.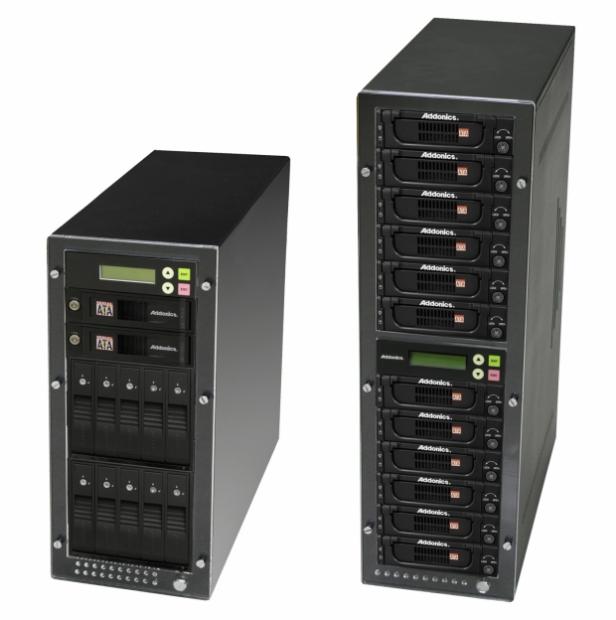 The 1:11 HDD duplicator comes in three different models and operates as a stand alone device. No computer or complex software is needed. Simply insert the master drive into the source slot and then insert up to 11 hard drives of equal or larger capacity than the master drive into the duplicator slots. Press the "copy" button on the LCD control module to start the copying process. The 1:11 HDD duplicator supports a maximum copy speed of 300 MB/sec.
The Deluxe and Deluxe-C model allow you to duplicate any 3.5" or 2.5" SATA hard drive. The Deluxe-C is more compact and lighter. Drives are loaded directly into the duplicator. The source or target drive can be either a 3.5" or 2.5" SATA drive using an optional 2.5" drive adapter or SSD.
The PRO model has the flexibility of copying any combination from any 3.5" or 2.5" SATA or IDE hard drive to eleven 3.5" or 2.5" SATA or IDE hard drives using an optional IDE removable drive tray. Drives slide into a removable drive tray with no special tools required. By adding an optional Diamond Cipher drive enclosure, users can easily make backup copies of sensitive data with bullet proof AES-256 bit encryption. The Addonics drive enclosure can also be used as drive sanitization tool to recycle used hard drives.
Prices range from $1,399 for the Deluxe-C model to $1,599 for the PRO model.
For more information, visit: http://www.addonics.com/products/Duplicator/HDU11SITDR.asp
About Addonics Technologies
Addonics Technologies Inc. designs, manufactures, and markets a broad line of internal/external and mobile storage products. Addonics products are available through the company online store www.shopaddonics.com, major catalog companies, resellers, VARs and distributors, including Amazon.com, PC Connection, CDW, Buy.com, Provantage.com, Insight, and Ingram Micro.
Last updated: Apr 7, 2020 at 12:05 pm CDT